4 Key Trends in Emerging Markets and Companies that May Benefit
The events of 2020 demonstrated how severe unknown risks can be. After a brief sell-off during the early stages of the pandemic, emerging market equities quickly recovered despite the crippling effect of COVID-19 on the global economy. But not all emerging market countries have been impacted to the same extent and the global recovery will be uneven.
We believe the key to successful investing in the emerging world is to seek quality companies with pricing power, barriers to entry, and strong competitive advantages that can generate predictable earnings growth, even amid the often-volatile EM landscape. Many of these companies are positioned to benefit from long-term secular themes. Some of these shifts, such as the rise of e-commerce or the development of online gaming, have been advanced by the pandemic. Others, like an expanding middle class and their demand for new goods, have been temporarily impacted by the pandemic but remain in place for the long term.
Here are four noteworthy trends in EM for investors to consider and examples of companies that we believe are positioned to reap rewards in this dynamic space.
1.    Consumer Companies with Local Know-How Fill a Gap
The middle-income consumer group in emerging markets is expected to surge by 2030, with the bulk of this growth occurring in Asia. Rising disposable incomes in China and elsewhere are fueling demand for better housing, consumer products, and discretionary items enjoyed by an upwardly mobile middle class.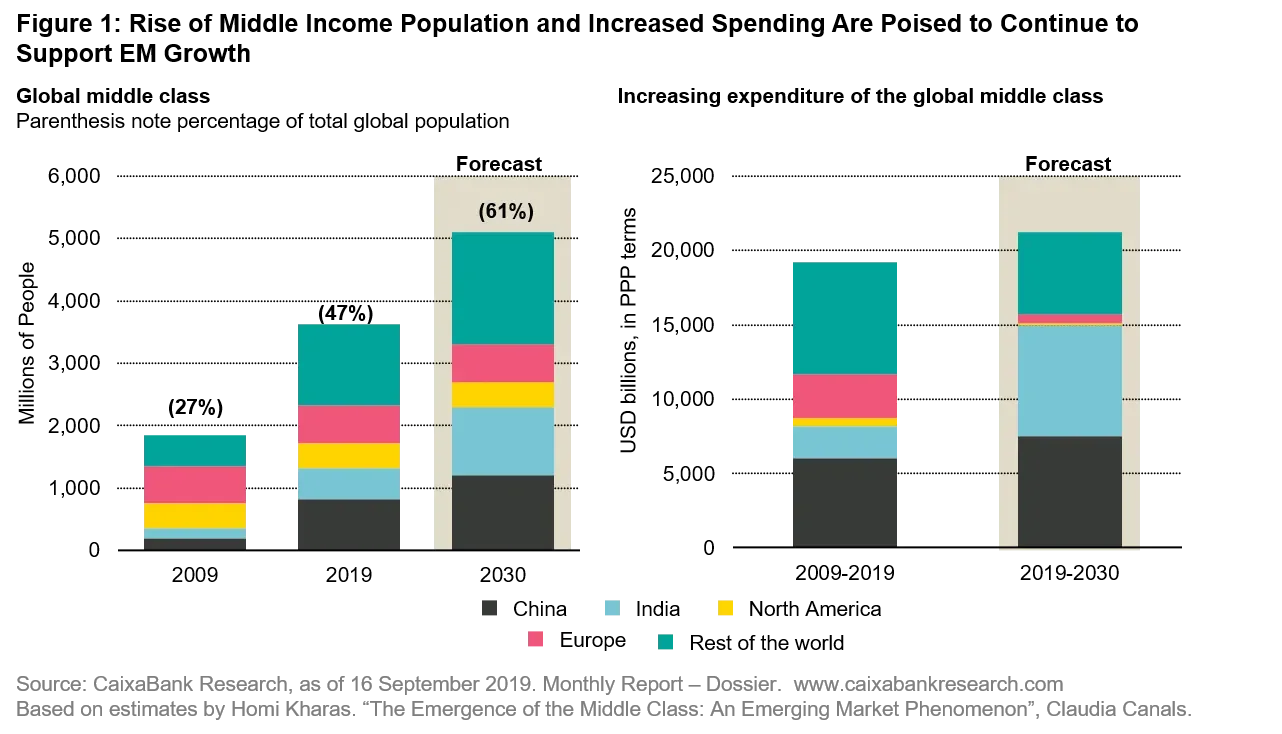 Status-seeking consumers originally sought Western brands. But EM consumers have increasingly become dissatisfied with products and packaging that have not adapted to local tastes. Companies with the knowledge of local customs, preferences, and languages are meeting the needs of the local consumer in a more nuanced way.
One example is Yum China, which operates the KFC, Pizza Hut, and Taco Bell fast food franchises. With decades of experience and customer loyalty in China, its brands are a part of daily living, while also meeting the diverse and evolving demands unique to the Chinese consumer. Capitalizing on its vast data on millions of members, its menu offers a mixture of local favorites and international flavors. Also in China, Chacha Foods and Toly Bread are leaders in flavored nuts, seeds and breads and moon cakes that cater to local tastes with better packaging for freshness.
2.    Rise of Regional E-commerce
E-commerce giants such as Amazon and Alibaba have thrived as disruption from the pandemic accelerated the migration online. Amazon is present in markets that account for 74% of global GDP. However, the rest of the world has a combined GDP of $22 trillion, a sizeable market where Amazon is not a force.
Regional companies are taking market share by adapting to local preferences, especially in the developing world where e-commerce is still in its infancy in some markets. And even in developing countries where online penetration is comparatively higher, it is still only approximately 25%, as illustrated in Figure 2. In Korea, for example, Naver is the dominant player in search, e-commerce, payments, and content. It has created a powerful and complementary ecosystem of services that adds value for shoppers. And its high level of local adoption makes it difficult for international competitors to enter the market.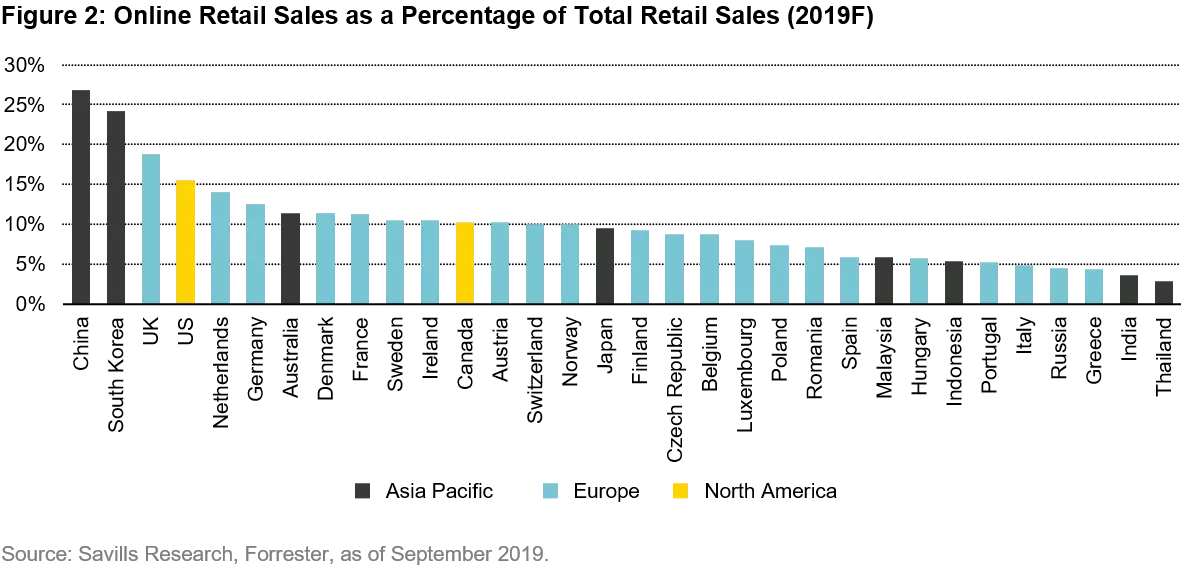 3.    Online Gaming Goes Mainstream
Video games, especially on mobile devices, are no longer just for young boys. Demographics have broadened by gender and age. NCsoft, a leading video game company based in Korea, estimated that their gamers are roughly equally split between male and female. Even from 2018 to 2019, before the acceleration of the pandemic, there was a significant increase in hours spent on gaming per week (Figure 3). 
Video games are evolving as a primary form of entertainment in developing countries where other forms of entertainment are limited. And there is no upfront cost to play as monetization is often through the sale of in-game virtual items.
Tencent Holdings is one of China's largest web portals with a strong presence in online gaming and instant messaging – strengths that complement each other. Tencent's dominant online communication channel helps direct traffic to its leading gaming platform, which translates into strong sales and earnings growth.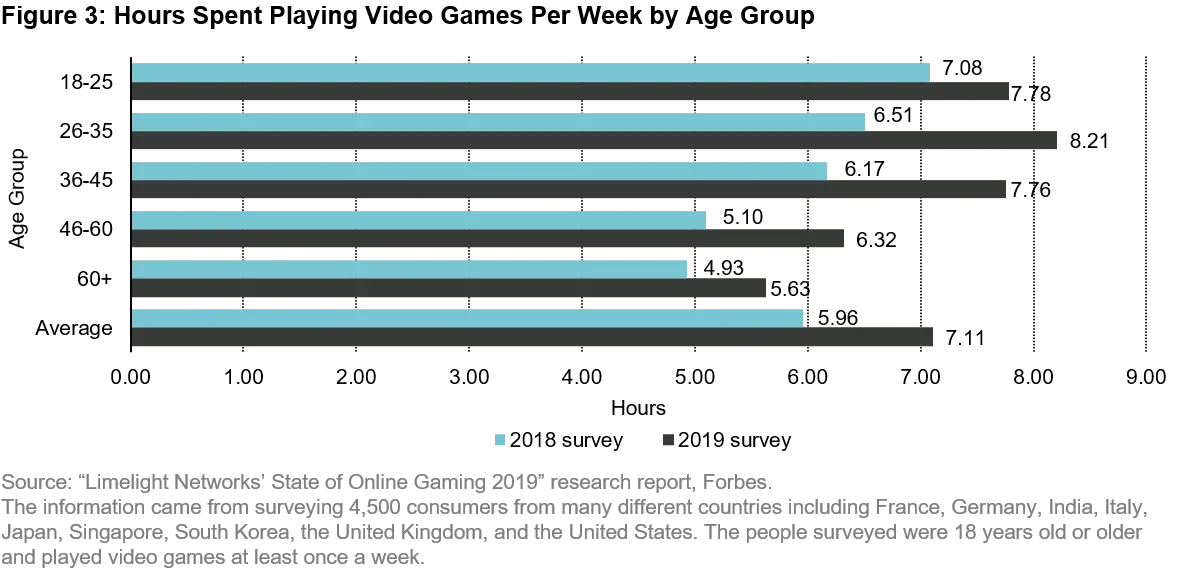 4.    Semiconductors: Growing Demand, Rising Barriers to Entry
Semiconductor chips are at the heart of emerging technologies, including artificial intelligence (AI), Internet of Things (IoT), advanced wireless networks (5G), autonomous driving, cloud computing, and much more.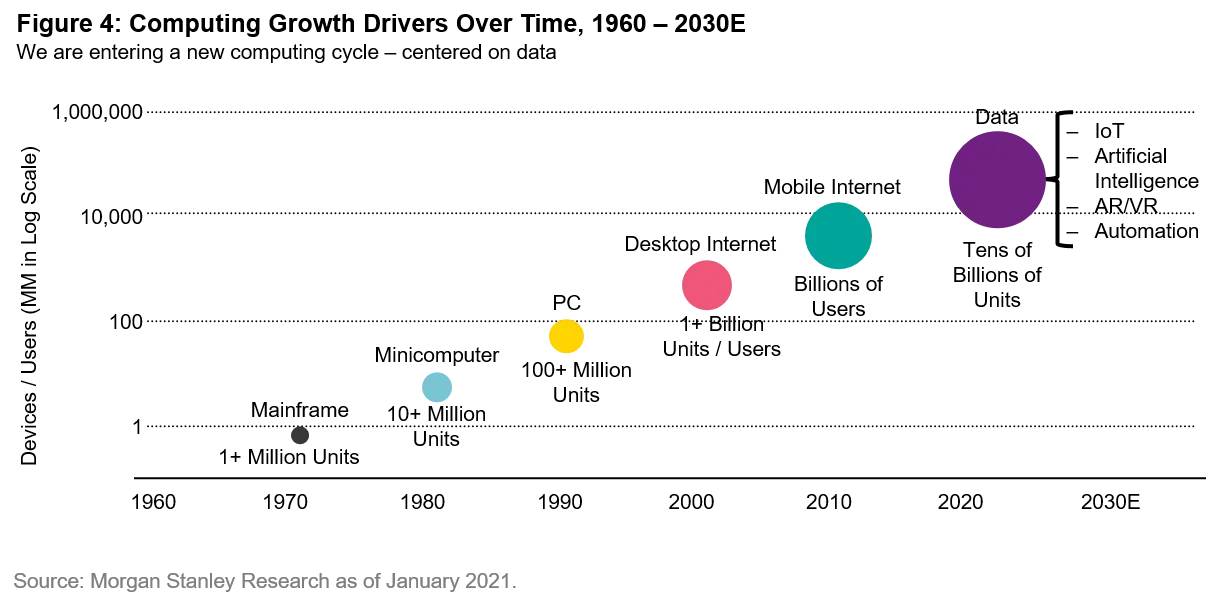 Emerging markets are home to some of the leading global players in memory and logic semiconductors, which stand to benefit from the growing need for data centers and cloud infrastructure services. For example, Korea's Samsung is dominant in memory. An astounding 70% of the world's data is produced and saved with Samsung's products. Meanwhile, Taiwan Semiconductor Manufacturing Corporation (TSMC) is a leader in logic semiconductors, making chips used in Apple devices, among others. The company invests heavily to keep its edge with products that are ever faster and more powerful.
The growing cost and complexity of chip manufacturing raises significant barriers to entry. And, despite China's effort to promote a domestic semiconductor industry with heavy state subsidies, the execution risks have limited progress thus far.
A Focus on Quality
The many forces at play in the emerging markets require diligence and patience to navigate. Investors stand to benefit by paying attention to long-term structural shifts, rather than focusing on short-term market movements. From our vantage point, however, we believe it's most important for investors to focus on quality businesses. Many high quality companies are coming out of the pandemic stronger than when they entered, creating attractive growth opportunities for astute investors that know where to look.
Disclosure:
Any investments discussed are for illustrative purposes only and there is no assurance that the adviser will make any investments with the same or similar characteristics as any investments presented. The investments are presented for discussion purposes only and are not a reliable indicator of the performance or investment profile of any composite or client account. Further, the reader should not assume that any investments identified were or will be profitable or that any investment recommendations or that investment decisions we make in the future will be profitable.
Certain of the information contained in this presentation is based upon forward-looking statements, information and opinions, including descriptions of anticipated market changes and expectations of future activity. VAMUS believes that such statements, information, and opinions are based upon reasonable estimates and assumptions. However, forward-looking statements, information and opinions are inherently uncertain and actual events or results may differ materially from those reflected in the forward-looking statements. Therefore, undue reliance should not be placed on such forward-looking statements, information and opinions.