Video didn't kill the radio star… and neither did supply chains
On August 1, 1981, MTV launched in the US. The first music video shown by the channel was the aptly named "Video Killed the Radio Star" by an obscure band called the Buggles. There is little doubt that MTV purposely chose this song as a message to the world.
The arrival of MTV videos symbolized the rise of technology. Videos were supposed to "kill" the radio industry back in the 1980s, but this was not the case. By leveraging its platform of loyal listeners, the radio industry has maintained relevancy despite the challenges of terrestrial radio by fully embracing new business lines such as digital podcasting, digital advertising, marketing solutions for ad paying customers, and "experience based" live events.
Broadcast radio is a mature subsector that can outperform in an inflationary environment at the latter stages of an economic cycle given its cost profile and broad customer mix that is tied to consumer demand. Input costs for the radio subsector are more resilient given there is less reliance on raw material costs and more on personnel, sales commissions for selling advertising, and other production expenses.  These costs are rising but not nearly to the same extent as the costs for industrials, which tend to have a higher concentration of commodity-based raw material costs.
On the demand side, radio can also outperform at this stage of the cycle so long as consumer spending remains intact. Radio's broad customer base includes companies in all facets of the economy ranging from goods (autos, electronics) to services (hotels, concerts) as well as politics. As such, while radio is considered a cyclical industry given the discretionary nature of advertising spend, the broad customer base can mitigate the negative impact of one or two customer subsectors. In addition, radio is also more cost efficient than other advertising mediums and thus tends to hold up better than other more expensive options such as cable TV. Customers are more likely to cut advertising in other areas as a result, which has supported the broadcast radio segment overall.
Threats are opportunities for the radio industry
In order to gauge interest in any industry sector, it is important to understand the growth drivers to both revenues and then ultimately cashflow. Ironically, the main growth driver for the radio industry, digital streaming and podcasting, is still seen by some to be the main threat to the business model. Radio broadcasters today not only provide radio programming but also produce digital podcasts that one can stream through a mobile phone or straight to the car. The overall stickiness of its listeners, who are predominantly listening while driving, makes the cost/benefit of radio advertising compelling vs. television and social media. These listeners are captive and loyal, which helps to promote live events as well as other direct marketing initiatives deemed important by local and national advertisers. Radio is also strong in local sports programming, which is benefitting now from the rise of legalized sports betting in various states. The ability to provide some, if not all of these product lines supports higher advertising revenues.
Advertising revenues typically fall during economic slowdowns but then recover thereafter. Currently, we are experiencing a recovery of sorts post the Covid pandemic. This is especially true for radio, given its reliance on cars. Advertising rates improve with more listeners and radio benefits as people return to work and increase activity overall. This driver is powerful and should fuel a rebound in advertising spending. While certain end markets are experiencing issues, such as auto, radio advertising is diverse and other end markets such as sports betting are growing fast. For example, iHeartMedia grew its Multiplatform Group Q4 21 revenues (which includes Broadcast radio, Networks, and Events) by 17% y/y (excl. political revenues). This was still down 14% vs. Q4 2019, but there is sequential improvement when compared vs. 2019. Political revenues also provide a boost and are expected to be meaningful in this year's upcoming midterm elections.
The rise of digital audio in the form of streaming and podcasting is becoming a meaningful growth driver for the radio sector. For the larger players, advertising revenues generated within digital audio now represents upwards of 15 to 25% of total revenues. This segment grew meaningfully in 2021 as seen by:
iHeart, year on year +59% for digital, +130% for podcasting
Audacy year on year +25% for digital
Cumulus year on year +48% for digital.
Within digital audio, podcasting is growing fast overall and is forecast by Goldman Sachs to grow ~45% annualized from ~USD 50 million in revenues 2019 to ~USD 440 million in 2025 (1 see Goldman research report dated 7/23/21 titled, "Investor feedback from Live Nation, iHeartMedia & Liberty One initiations). What was once viewed as a threat, digital is now seen as a clear extension of product lines offered to its customers. This has enabled traditional radio broadcasters to participate in the digital revolution and helps to offset any cannibalization effects. As seen in the below chart, radio's share of advertising has declined from 2007 but this is more of a function of the rise of digital as the absolute level of radio spend for the industry has been stable at USD 13-15 billion.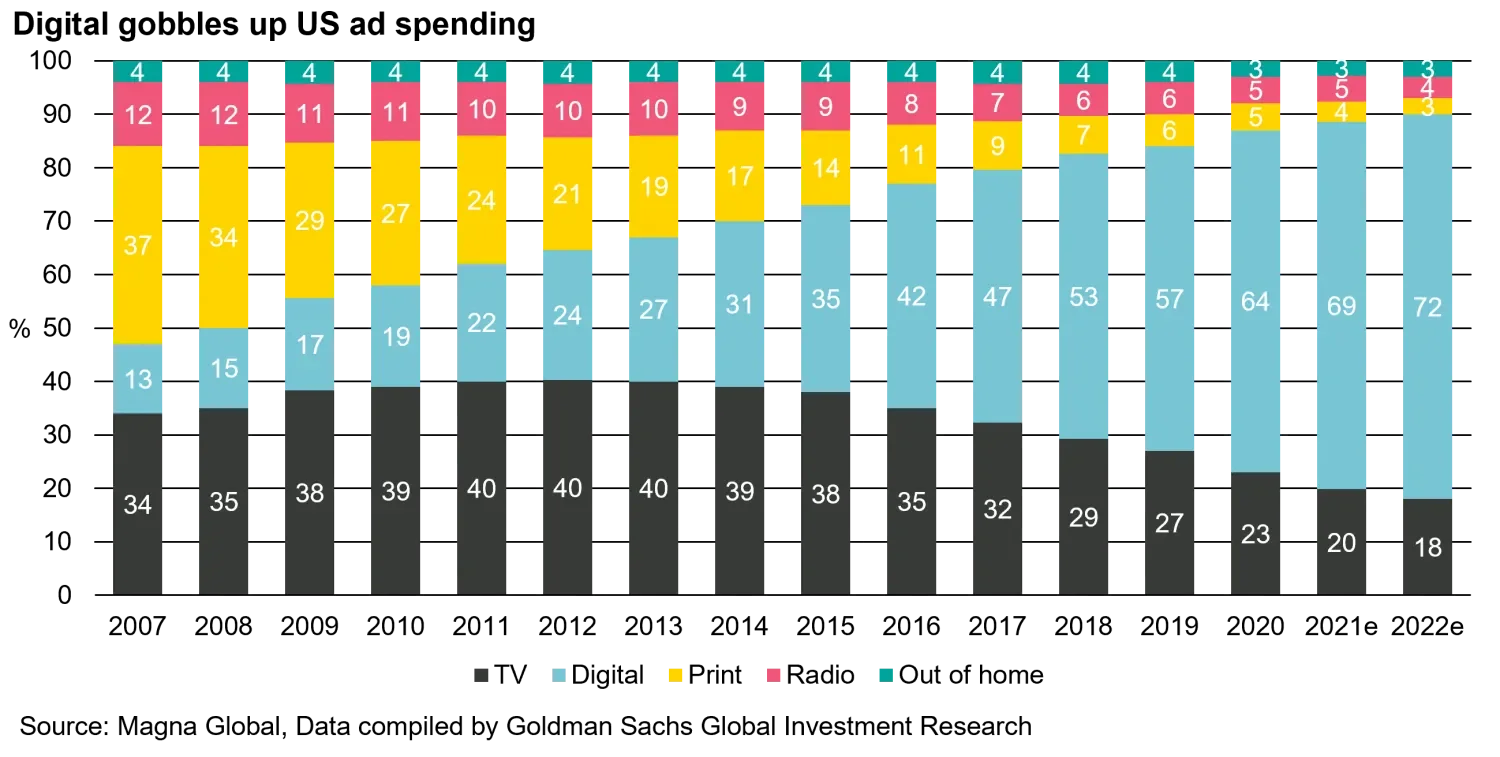 Another key driver for the US radio sector in 2022 and beyond is the legalization of sports betting in more and more states (most recently New York in January 2022). Radio is an effective medium given its extensive sports programming in general. The intense competition within sports betting companies to acquire new customers during this important ramp up phase supports high advertising budgets. The rise of sports betting is helping to offset less robust growth in other customer end markets, such as auto which is suffering from the well documented chip shortage.
Finally, radio's peak-to-trough sensitivity also supports an outsized recovery in 2022. The Covid-19 pandemic hit the radio sector particularly hard as customers pulled back on advertising during the lockdowns. As the economy is now fully reopened, advertising should recover back to pre-pandemic levels.
Issuers with some sweet sounds
In our view there are two US issuers that demonstrate the potential in the radio space: iHeartMedia and Audacy (formerly known as Entercom). While iHeart is the leader of the pack in terms of size and its digital platform, Audacy also has a robust platform and digital offering that is poised to recover further in 2022. Below is a quick snapshot of both:
iHeartMedia (IHRT)1
IHRT is the largest audio media company with a true national reach of 275 million monthly listeners. IHRT's portfolio includes 848 live broadcast radio stations (including 48 of top 50 markets and 86 of the top 100 markets). Under its brand iHeartRadio, IHRT also participates in over 20,000 local live events per year (9% of revenues in 2019). The digital business is growing fast and currently represents approximately 25% of total revenues (17% ex podcast). IHRT realizes the importance of podcasting and has been aggressively purchasing and partnering with various major podcast publishers. Revenues for the most recent quarter and full year were USD 843 million and 3,558.3 million, up 19.4% and 20.7%, respectively. Adjusted EBITDA for these same periods was USD 145.2 and 811.1 million, up 10.8% and 50.6%, respectively. Given total debt of USD 5,740 million and cash on hand of 280 million, the gross and net leverage is 6.7x and 6.4x, respectively. Financial guidance issued by management expects Q2 22 revenues to grow by approximately 10-14% y/y (note: Q1 22 revenue growth of 19.4% y/y exceeded high end of guidance). The management of iHeart recently reiterated that it expects to make significant progress in 2022 toward its net leverage target of 4x.
Audacy (AUD)2
Audacy is the second largest radio broadcaster as a result of its merger with CBS Radio, which closed in November 2017. Overall, AUD reaches approximately 90% of those over the age of 12 in the top 50 U.S. markets (and radio stations in all of the top 16 markets and 21 of the top 25 markets). AUD boasts that its key strength is its news and sports radio (management has stated that ~40% of revenues is tied to proprietary spoken word content). AUD states that it is home to seven of the eight most listened to all-news stations in the U.S. AUD's local sports platform includes the broadcast rights for 14 Major League Baseball teams. Digital is offered through its Radio.com product, which contains a portfolio of stations and podcasts (note: AUD is one of the three largest podcast publishers reaching over 40 million monthly listeners according to Triton). AUD also offers live events, including small and large-scale concerts as well as food and beverage events. Revenues for the most recent quarter and full year were USD 275.3 million and 1,219.4 million, up 14% and 15%, respectively. It is important to note that revenues excluding political were within 5% of pre-pandemic levels. Adjusted EBITDA for Q1 22 was USD 26 million, up 152% vs. the prior year. Adjusted EBITDA for the full year 2021 was USD 165.7 million, up 48%. Given total debt of USD 1,707 million and cash on hand of 35.6 million, the gross and net leverage is 9.4x and 9.2x, respectively. Management guidance for Q1 22 revenue growth is "mid-to-upper-single digits year-over-year."
Don't put the blame on VCR
Video (TV) proved unsuccessful in causing radio's demise, but digital music has emerged as the new threat. Instead of directly competing with the digital world, radio companies have embraced this new technology as a compliment to their core broadcasting business. As such, the Buggles would be hard-pressed to write a more current version of their original hit song by replacing "video" with "digital". I could see them editing a line to the song, however. Instead of "In my mind and in my car, we can't rewind, we've gone too far" perhaps it should be changed to: "In my house and in my car, I won't miss listening to my favorite star!"
1.(i) IHeartMedia Inc. Form 10-Q for the quarterly period ended March 31, 2022; (ii) IHeartMedia Q1 2022 Earnings Call Transcript dated May 6, 2022.
2.Sources: (i) Audacy Inc. Form 10-Q for the quarterly period ended March 31, 2022; (ii) Audacy Q1 2022 Earnings Call Transcript dated May 10, 2022.
Important Information:
Any companies discussed are for illustrative purposes only and should not be considered as a recommendation to buy, hold or sell any security. Information presented for discussion purposes only and should not be viewed as indicator of the performance or investment profile of any composite, fund or client account. Further, the reader should not assume that any investments identified were or will be profitable or that any investment recommendations or that investment decisions we make in the future will be profitable.
The views and opinions herein may change at any time and without notice. Such information is not intended to predict actual results and no assurances are given with respect thereto. Certain information herein is based upon forward-looking statements, information and opinions, including descriptions of anticipated market changes and expectations of future activity of countries, markets and/or investments. We believe such statements, information, and opinions are based upon reasonable estimates and assumptions. Actual events or results may differ materially and, as such, undue reliance should not be placed on such forward-looking information. Vontobel reserves the right to make changes and corrections to the information and opinions expressed herein at any time, without notice