What next for Asia tech? – Chinese internet shares may be bottoming out
Key takeaways
Emerging market internet stocks went from bad to worse since 2021 on tighter regulation, slowing economic growth, rising interest rates, and lockdowns tied to the pandemic
While some of these factors may continue to weigh on the sector, easing regulation and a measured reopening of the locked-down economy are hopeful signs
Shares of Chinese internet platforms may be about to bottom out with downgraded earnings expectations now appearing beatable
Valuations, significantly below those of US peers, seem to offer attractive long-term opportunities for stock pickers
In 2021, US internet stocks reached record highs while Asian peers underperformed massively, mainly on account of falling shares of Chinese internet companies. The internet sector in Asia retreated further in the beginning of 2022 but the gap to the US has narrowed of late. Have Chinese internet stocks finally hit rock bottom, meaning the long-awaited trend reversal is now happening?
Stricter oversight in China soured sentiment for internet stocks
One of the main reasons for the slump in Chinese internet names was tighter oversight. The calling off of Ant Group's initial public offering (IPO) in late 2021 was a first sign of increased scrutiny. The authorities later tightened the screws on financial technology companies, banned internet-enabled for-profit tutoring for Chinese students, released a slew of new rules for online games (limits on the time minors can spend playing) and media content (curb on celebrity fan culture, denouncing parts of the business as "money worship"). There were also data privacy (customers able to block targeted advertising) and anti-trust issues (authorities pushing to open up ecosystems, which could lower prospects for internet incumbents). All of this depressed economic growth and investor sentiment.
Regulation of big technology companies in Europe and the US was tightened much earlier than in China, but authorities in the west often apply a lighter touch. As a result, internet stocks in developed markets could ride the post-Covid wave of digitalization and cloud transformation with the MSCI Communication Services Index, for instance, rising 13 percent in 2021 versus a loss of 10 percent for the respective emerging market benchmark, with Chinese internet blue chips Tencent and Baidu declining 19 and 31 percent, respectively. The Chinese internet sector started to stabilize in early 2022 after the Chinese leadership signaled a policy shift to economic growth last December, dropping mentions of "anti-monopoly efforts" or "curbs on the disorderly expansion of capital" that had featured in a document from the previous year. In the course of 2022, China's "zero Covid" stance and its dampening effect on economic activity, as well as increasing global recession fears, led to another round of sell-offs – this time hurting US stocks even more than Chinese ones. Since the beginning of the year through June 15, the communication services index for developed markets lost 27 percent with the same index in emerging markets down by "only" 17 percent.
High valuations came before the fall
It's worth noting that the large Asian internet companies were exceedingly expensive in early 2021, and this contributed to their underperformance last year. Looking at the three most established listed Chinese internet platforms Tencent, Alibaba, and Baidu, their combined valuation in terms of enterprise value/earnings before interest, taxes, depreciation and amortization (EV/EBITDA) went from 26.5x in the first quarter of 2021 to only 9.1x in the fourth quarter – a development associated with a statistical probability of less than 5%. The multiple has since improved a bit to 13.7x, but this still equals a discount of 46 percent versus the 25.5x of a representative US internet heavyweights basket of Alphabet, Meta, and Amazon. That compares to a historical 32 percent premium of Chinese internet stocks (see chart 1).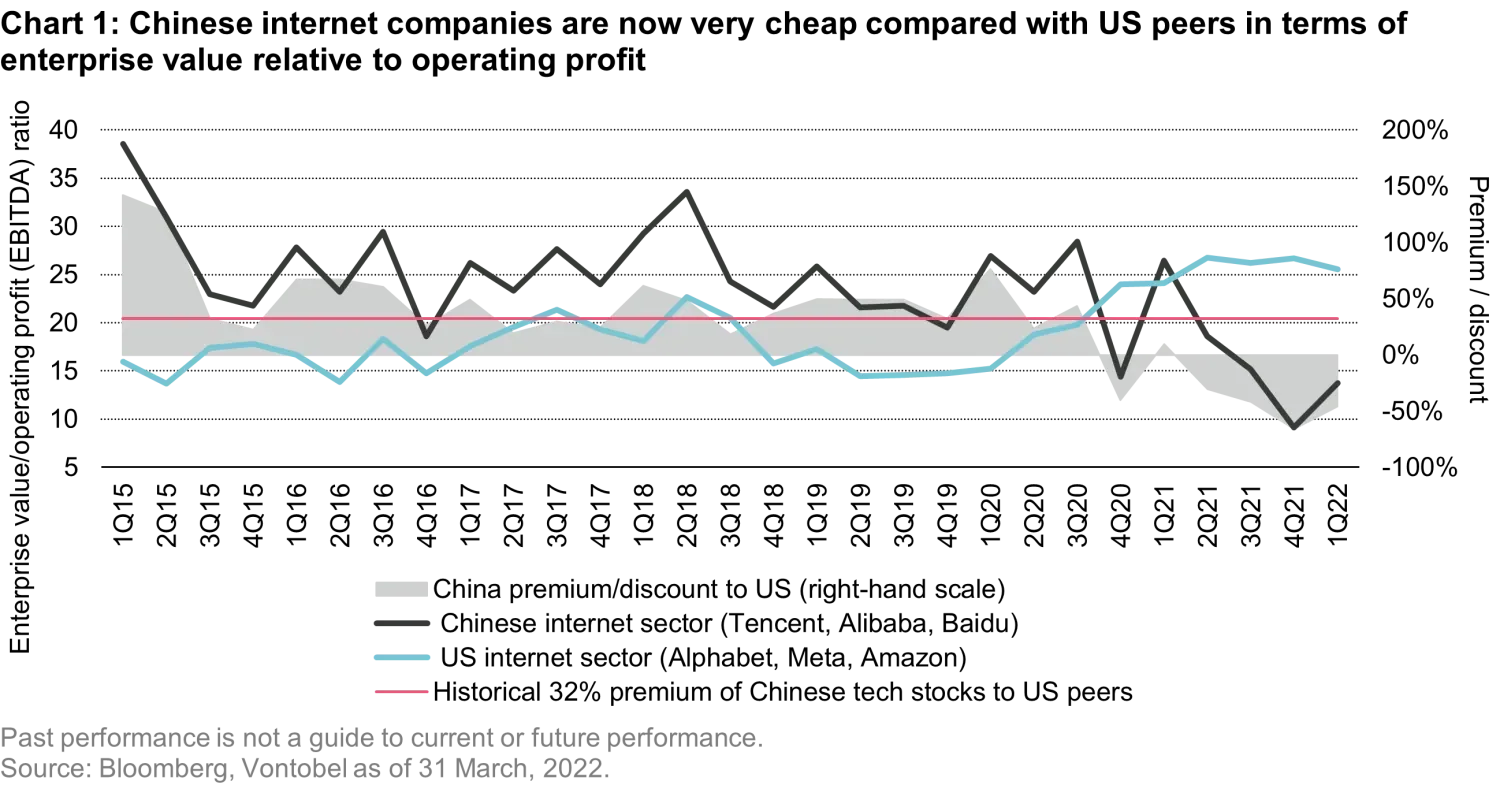 Regulators ease their grip, but uncertainty remains
The Chinese leadership's call on April 29 on regulators to support the internet platform economy has effectively put a floor under Chinese internet valuations, we believe. Other news also suggests that the regulatory tightening cycle is over, such as authorities reportedly wrapping up an investigation into ride-hailing company Didi Global. At what stage and to what degree valuations can recover remains to be seen. There is still a lot of uncertainty in the market. Moreover, Tencent executives have mentioned a "new industry paradigm" of lower and more sustainable growth. But considering current market expectations for Chinese internet platforms over the next two years, we think the companies could be able to beat analysts' earnings growth estimates, which are at a low 4 percent (see chart 2).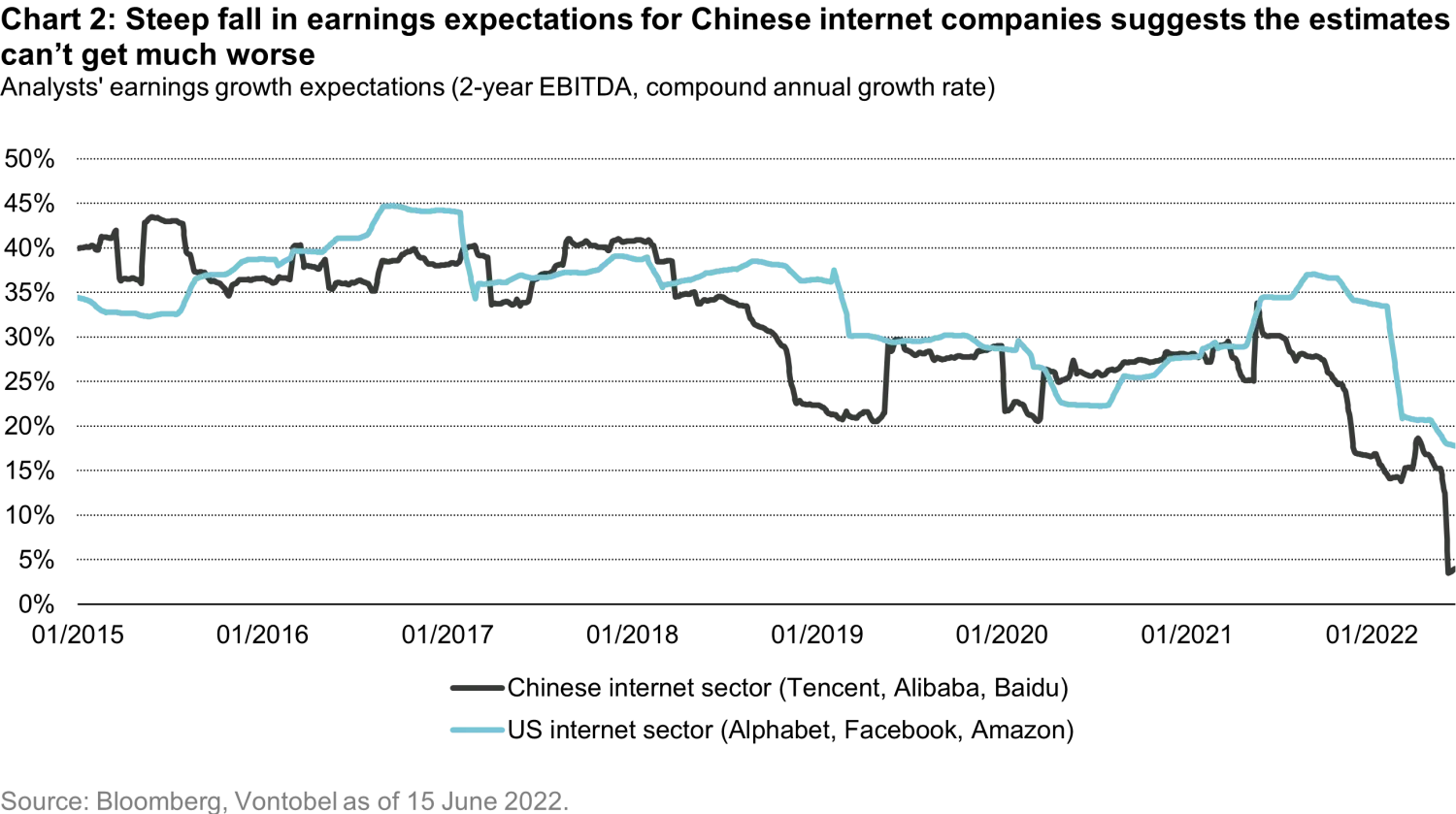 We think economic conditions should eventually improve again from what could be a disastrous 2022. Cloud computing and fintech still have large growth potential in China, and leading internet companies should be able to monetize games as well as user traffic on their platforms. Some green shoots like tentative reopening measures and better e-commerce in May have also emerged. Therefore, it looks as though valuation multiples have limited downside, and that analysts are hardly likely to reduce their earnings expectations much further. Thus, the gap to US peers could narrow again, especially if that segment starts feeling the pinch of mounting recession fears. Overall, we believe that able stock pickers could take advantage of long-term opportunities in Chinese internet names.  

Important Information
The views herein are those of Vontobel and may change at any time and without notice. Information and opinions presented have been obtained or derived from sources believed to be reliable and current; however, Vontobel cannot guarantee the sources' accuracy or completeness. Such information is not intended to predict actual results and no assurances are given with respect thereto. Information herein may contain forecasts or other forward looking statements regarding future events in connection with countries, markets or companies. There is no guarantee that any such future events will come to pass and actual events or results may differ materially.
Investments discussed herein may or may not be held in in of one of our strategies and are for illustrative purposes only. Companies discussed should not be considered a recommendation to purchase, hold or sell any security. There is no assurance that Vontobel will make any investments with the same or similar characteristics as any investments presented. The investments are presented for informational purposes only and are not a reliable indicator of the performance or investment profile of any composite or client account. No assumption should be made as to the profitability or performance of any company identified or security associated with them.