China: Stars align for an economic (and real estate) recovery
Key takeaways
Chinese policymakers have been easing policies to avoid a sharper economic slowdown
Recent economic data suggests that the Chinese economy is bottoming out, which is good news for the global economy and Chinese assets
We expect policy easing to continue, translating into faster economic growth
Spare capacity remains ample and inflation low
China's real estate sector bonds have already started to recover, offering plenty of opportunities for investors
Housing is for living, not for speculation
Over the last 18 months, the Chinese government has implemented a series of measures to strengthen the country's long-term economic might, social stability, and technological independence. The process accelerated during the summer of 2020, with the aim of reducing excessive leverage in real estate sectors, at all stages of the value chain – "Housing is for living, not for speculation", was the authorities' motto.
The latest data releases and policy measures from China are reassuring
Party officials have expressed their desire to stabilize the economy. The central bank (PBoC) has put its money where its mouth is by cutting interest rates: the reserve requirement ratio (RRR) has been cut by 50 basis points, the one-year medium-term lending facility by 10 bps, as well as the seven and 14-day reverse repo rates by 10 bps. Moreover, the PBoC continues to provide sufficient liquidity in its short-term refinancing operations to guarantee financial stability. In addition, regional governments and banks have been tasked to accelerate their lending and project financing to boost the economy.
China's economic cycle has decoupled from the rest of the world
Global growth is expected to decelerate this year as spare capacity in most economies is now quite limited. Though, that's not the case in China, where spare capacity remains ample, and inflation is low. This allows the PBoC to pursue its smooth and targeted policy easing; and although gradual, the easing seems to be working as credit growth has already started to accelerate. The U-turn in policy started in November, and growth in GDP surprised to the upside reaching 4% year-on-year (against 3.3% expected) in the fourth quarter and +8.1% for 2021.
And while the world worries about high inflation, China's annual inflation rate stood at just 0.9% in January. This partly reflects a significant amount of slack in the economy, which justifies the central bank's gradual easing of its monetary policy stance.
The economy is beginning to bottom out
Various activity indicators, like ports' container handling, electricity, and industrial production have begun to point towards a stabilization of economic activity, with a further rebound expected from the first quarter of 2022 onward. However, household consumption remains the weak point of the economy and growth has been supported by external rather than domestic demand.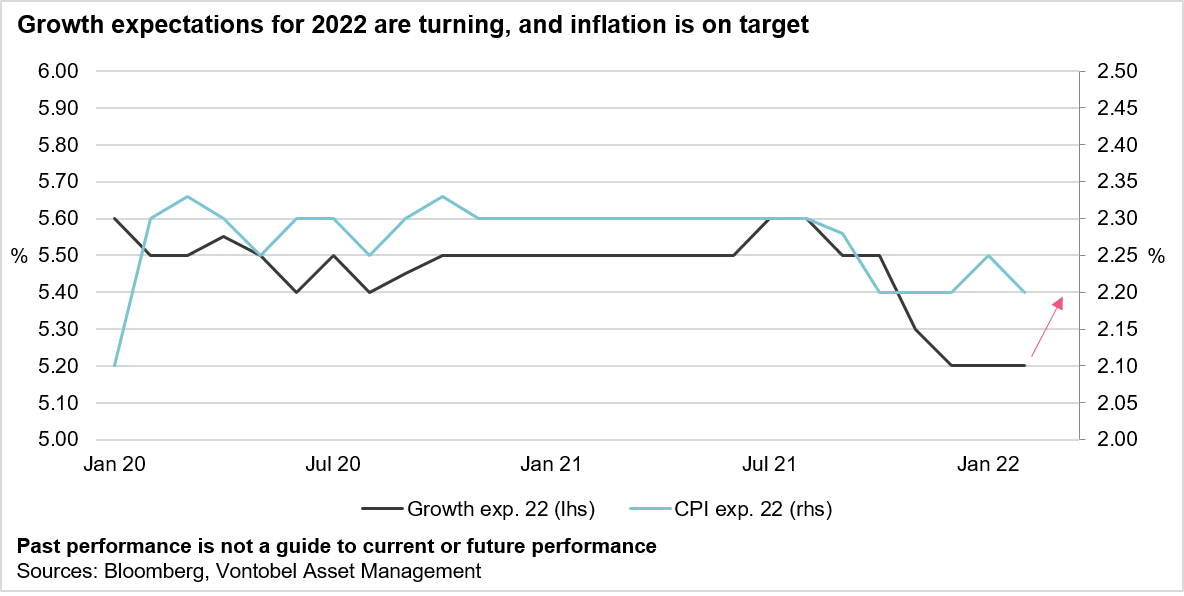 Restrictive real estate policies are being eased
Policy easing has gone beyond the usual macro levers of fiscal and monetary policy that aim to stabilize the economy. The real estate sector comprises over a quarter of the economy, which has prompted policymakers to ease their grip there too. Recently, the PBoC lifted a year-long cap on loans for the real estate sector if it is directed to low-cost rental housing projects. The move highlights that China's new policies are targeted towards supporting lower income households. Earlier in January, the government eased leverage restrictions on real estate developers and loosened bank restrictions on mortgage lending. In addition, it has been reported that policymakers are drafting new rules that would allow property developers to use part of their (until now strictly restricted) funds in escrow accounts (from pre-sale proceeds) to pay suppliers, workers, and urgent short-term debt obligations. If confirmed, this would allow relatively stronger developers to avoid unwanted debt restructurings.
Real estate bonds are rebounding
That said, China's real estate crisis is not over, and we should still expect additional defaults from the most leveraged developers. Yet, we believe that we can see the light at the end of the tunnel, and we are much more confident that the risk of a Lehman moment for China is unlikely. It is now well understood that large restructurings will be reasonably managed with public sector intervention. Evergrande has stated that offshore creditors' rights will be respected, and the company is expected to announce a global restructuring plan within the next six months.
China's high-yield real estate bonds are up ~8% on average from their mid-January lows. But this isn't a sector to invest at the index level as dispersion is very high. Some issues are up by as much as 32% on the month while others are down by as much as 71%1. The performance of the sector remains highly heterogenous, which is understandable given the different quality of assets of these companies and very different cashflows, access to credit, and the targeted nature of the upcoming policy easing in the sector. We think the sector has potential, but it's important to remain selective as more defaults remain on the cards and some restructurings will be more creditor friendly than others.
1. Source: iBoxx USD China Real Estate High Yield total return index, as of 18.02.2022