Race, Role Models and the Future
Think about how many brilliant minds have been caged in because they were considered "different". How many Einsteins, Mandelas, or Turings did bias hold back? The cost of such bias to human development, economic growth and wealth creation is staggering.
Humans are the most complex creatures on the planet, and we can pat ourselves on the back for generations of advanced thinking in, say, medicine or technology. Yet when it comes to the realm of instinct, the harder it seems for us to evolve. Nowhere is that more apparent than how we build subconscious likes and dislikes – known as cognitive bias. It's natural for an individual's perception of reality to be built on their personal experiences and influences, such as social media. But personal frames of reference are rarely a balanced and objective reality. Left unchecked, and taken as a whole, evidence shows that an entire culture weighed down by cognitive bias can deviate sharply from the path of its most potential.
Sparked by recent controversial events, it is clear that racial stereotypes and bias can last for many years and carry great costs. The results of biases are clear to the eye. In the United States, minorities make up 40% of the population, hold 29% of the bachelor degrees but account for just 16% of the board seats across the Fortune 5001. When we fail diversity in our boardrooms and workforce and eliminate certain groups from well-paid or influential jobs, the costs are borne not only by society but also in diminished long-term shareholder returns.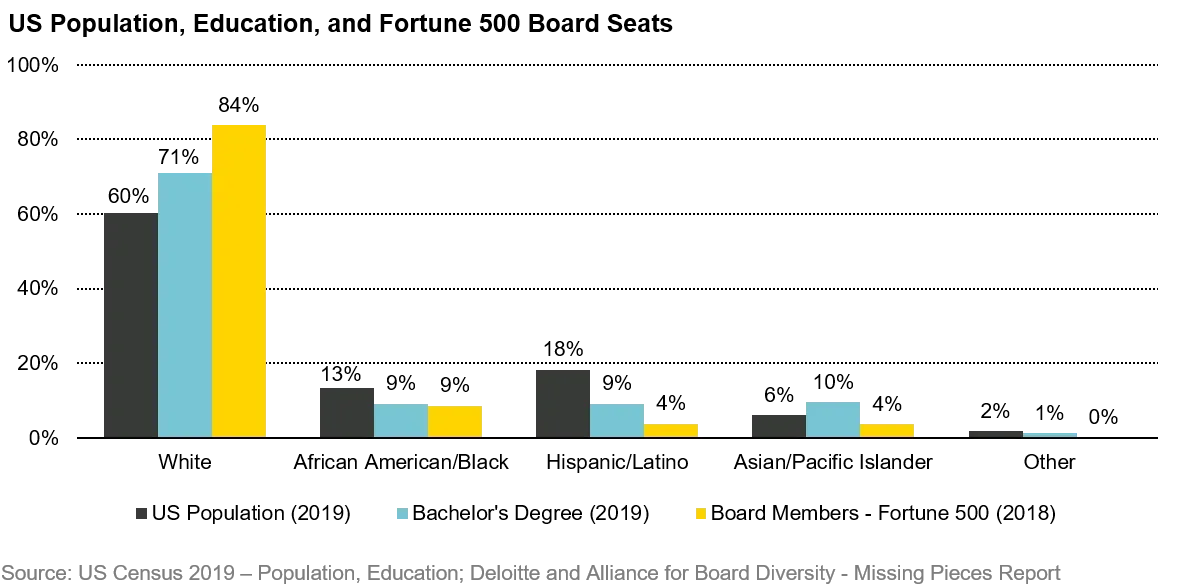 A number of studies have illustrated how diversity contributes positively to company performance.  A 2015 study by McKinsey2 found a linear relationship in the US between ethnic diversity and earnings - with every 10% increase in racial and ethnic diversity on the senior executive team lifting operating profit by 0.8%. In our own study of the 150 largest companies in the S&P we found that those with the most ethnically diverse boards on average achieved a higher proportion of their business in international sales and generated a higher 5 year EPS growth than companies with the least diverse boards.
Our view is that it is in the self-interest of shareholders that companies effectively manage and earmark the appropriate resources to their single most indispensable resource: people. Why then is the process around hiring so unstructured in many companies, despite discipline in other areas?
At the most basic level, it may be difficult to see why diversifying the talent pool generates the best results and financial performance. But examples abound: The most famous process was pioneered in 1952 by the Boston Symphony Orchestra. There was a heavy male bias in U.S. orchestras. Boston switched from the conductor hand-picking musicians to a process involving blind auditions. With the new set up musicians played their preliminary auditions behind a screen, concealing their identity and gender.  The result was a dramatic increase in the proportion of women hired, which in turn encouraged more to apply. The proportion of women musicians in the top five U.S. orchestras rose from less than 5% in 1970 to 21% in 1993. A study by researchers from Harvard and Princeton3 estimated 30-55% of the proportion of female new hires were due to the change – and as they put it 'democratizing' the process.
Diversity in the finance industry produces similar results. The Boston Consulting Group recently looked at 1,700 different companies in varying industries across eight countries showing that more diverse management teams have 19% higher innovation revenue (revenue from products and services launched in the past three years). And the Harvard Business Review study found that homogeneous investment teams at venture capital firms have worse investment outcomes than those that are diversified: A look at a comprehensive data set of every U.S. based venture capital organization since 1990 showed that for roughly the past three decades the talent pool is roughly 8% women, 2% Hispanic and fewer than 1% are Black. The study found that the venture capital firms that upped female partner hires by 10% saw, on average, 1.5% higher overall fund returns each year and 9.7% more profitable exits.
Building the optimal team starts with a structured and considered process around hiring and mentoring. There are many proven processes that can be used to improve the chances of hiring the strongest candidates and developing minority role models to inspire hiring managers and other employees.
What diverse boards bring
We believe responsibility for recruiting and developing a strong team starts and ends with the board and the CEO. In 2018 ethnic minorities held just 16% of the board seats of the Fortune 5004, notably lower than the 40% of the U.S. population (2019 U.S. Census). The level of board seats rose just 3% over the previous eight years despite an increasing proportion of new directors coming from ethnic minorities. The continued very low turnover of directors resulted in relatively few new seats.
We took a closer look at the largest 150 S&P companies, which in 2019 generated $7 trillion in revenues and employed just under 16 million people5. The table below shows the profiles of companies with the most ethnically diverse boards (Top 25) against the Bottom 25. The more diverse group were on average bigger by revenue, bigger by proportion of international sales (i.e. large multinationals) and generated a higher EPS growth rate over the past five years.


Also of note:
Most over-represented sectors in the Top 25 (most diverse) were health care and IT.
Most over-represented headquarter states in Top 25 were New York and California.  
Most over-represented sector in the Bottom 25 (least diverse) was real estate and IT.
Most over-represented states in the Bottom 25 were Illinois and New Jersey.
There are three takeaways in this data: First, companies with large international business potential have more diversity at the board level.  Multinationals tend to have broader cultural familiarity and needs, so will look for ethnic diversity in their teams. While industries such as real estate tend to be more domestic focused. This was also reflected within the IT sector, which is over-weighted in both the top and bottom groups. What we found is that the IT firms in the top group had much greater international business exposure (average for the 6 firms was 73%) than the 5 firms in the Bottom 25 (45%).  Two of the bottom group's IT firms were payments companies.
Second, businesses that compete on rapid innovation, such as health care and IT, attract talent with less bias to race. Less innovative sectors, such as real estate, may be slower to recognize the benefits from diversity.  
Third, consumer-facing businesses, where brand and customer positioning are important business drivers tend to have boards that are more diverse.  Of the Top 25 just over half were consumer facing, including Starbucks, Apple and Mastercard.  Within the Bottom 25, just under one third directly face the consumer.
To us it makes sense that qualified minority candidates should find a relatively straight-forward path to success working for companies that aim to evolve or remain globally competitive in areas where innovation is a core business mandate. It also means that domestic companies working in industries with slower innovation cycles and slower growth could benefit from the original thinking and high productivity that diverse talent pools offer.
Building a pipeline of future leaders
Creating a diverse and powerful employee base can lead to the development of new leaders and ongoing success for the future firm — and that requires fresh thinking. Between the goal and reality stands the cognitive bias barrier. Our view is that workplace diversity begins with the hiring process, but it continues with training, mentoring and the ultimately the transfer of responsibility.
Many boards and hiring managers alike often complain that the diversity effort is stymied by a dearth of qualified candidates. The narrow pool of potential ethnic minority leaders is a direct result of narrow hiring practices of the past, as well as other biases in education and beyond. We see a path for boards and companies to overcome this obstacle by bringing in talent from other disciplines, such as academia.
To bridge that gap, we see three important policy needs:
Build a structured process – future leaders need a defined hiring and career advancement path.
Provide effective mentoring for those who may find themselves at a disadvantage adjusting to corporate culture and networking.
Develop ethnically diverse role models throughout the firm for all employees.
Hiring choices – gut vs discipline
Ask yourself how much interview training you been provided with – ever. The problems with lack of hiring structure starts with inconsistency of questions, lack of coordination within the hiring team, and lack of data.  The end result is a sub-conscious bias that can steer you away from the best candidate, to the advantage of a less attractive hire.
Likeability has value, but it can easily be over-weighted against technical skills or even self-taught grit to get the job done.  Another issue that plagues hiring managers is the overweighting of credentials or the name of a college.  An interviewer needs to remember what the candidate achieved to get to their college.  Some start from a harder place and show a lot of determination to get through a middle-ranked college.  Others were more fortunate and made it to a top school.  But if grit is what you are looking for, remember there is more to potential than a university brand.  A key point is that no one is immune from bias.
Despite advances, women and minorities are still far too under-represented in corporate leadership. A structured approach around hiring and mentoring have been shown to reduce cognitive bias and that is what will ultimately build homegrown minority leaders of the future.
It's a critical initiative: Diversity of thought is not only a proven driver of innovation but also of shareholder returns. Building out and supporting corporate diversity is not just the right thing to do – it would be madness not to.
1. US Census, Deloitte and Alliance for Board Diversity
2. https://www.mckinsey.com/business-functions/organization/our-insights/why-diversity-matters
3. www.nber.org/papers/w5903.pdf
4. Deloitte and the Alliance for Board Diversity, Missing Pieces Report published 2019 5.FactSet
5. FactSet