What makes a megatrend go the distance?
The trend is your friend, the saying goes in investment circles. In that case, how should investors differentiate between trends that last a matter of months and those that will last for decades? We believe that our megatrends-based investment approach offers an answer. Just like inner values that are essential to a friendship, it is the themes embedded in the megatrends that hold out the promise of investment opportunities.
Potential to shake up our world
What exactly is a megatrend? A great example is the mobile phone. Who would have thought 20 years ago that most people on the planet would own a personal pocket-sized supercomputer? Today this is the reality, and the "rise of the smartphone" changed the communication industry as much as the way we interact with each other. As asset managers selling the Vontobel Fund II - 3-Alpha Megatrends product, we aim to anticipate such potentially life-changing megatrends, and our list comprises four of them:
Sustainable value creation
Investor demand for companies with high environmental, social and governance standards is growing. These can be found in areas such as energy generation, mobility, and recycling.
The rise of China and other emerging markets has turned the economic world order upside down. With new competitors and consumers entering the global stage, computer networks, data availability and security become ever more important.
Demographics and urbanization
More people live in cities than ever before, adopting new consumer habits and forms of entertainment such as e-sports. At the same time, societies in advanced economies are ageing rapidly, resulting in a shrinking labor force and mounting pressure on healthcare.
Technological convergence
With digitalization increasingly challenging the analogue world, the way we do business or make payments is changing fast. E-commerce, self-driving cars, robotics come to mind, and there are many more areas relying on connectivity and artificial intelligence.
Once a megatrend becomes a clear concept that piques your interest and guides you in a certain direction, you can start focussing on confidently investing into themes waiting to be harnessed.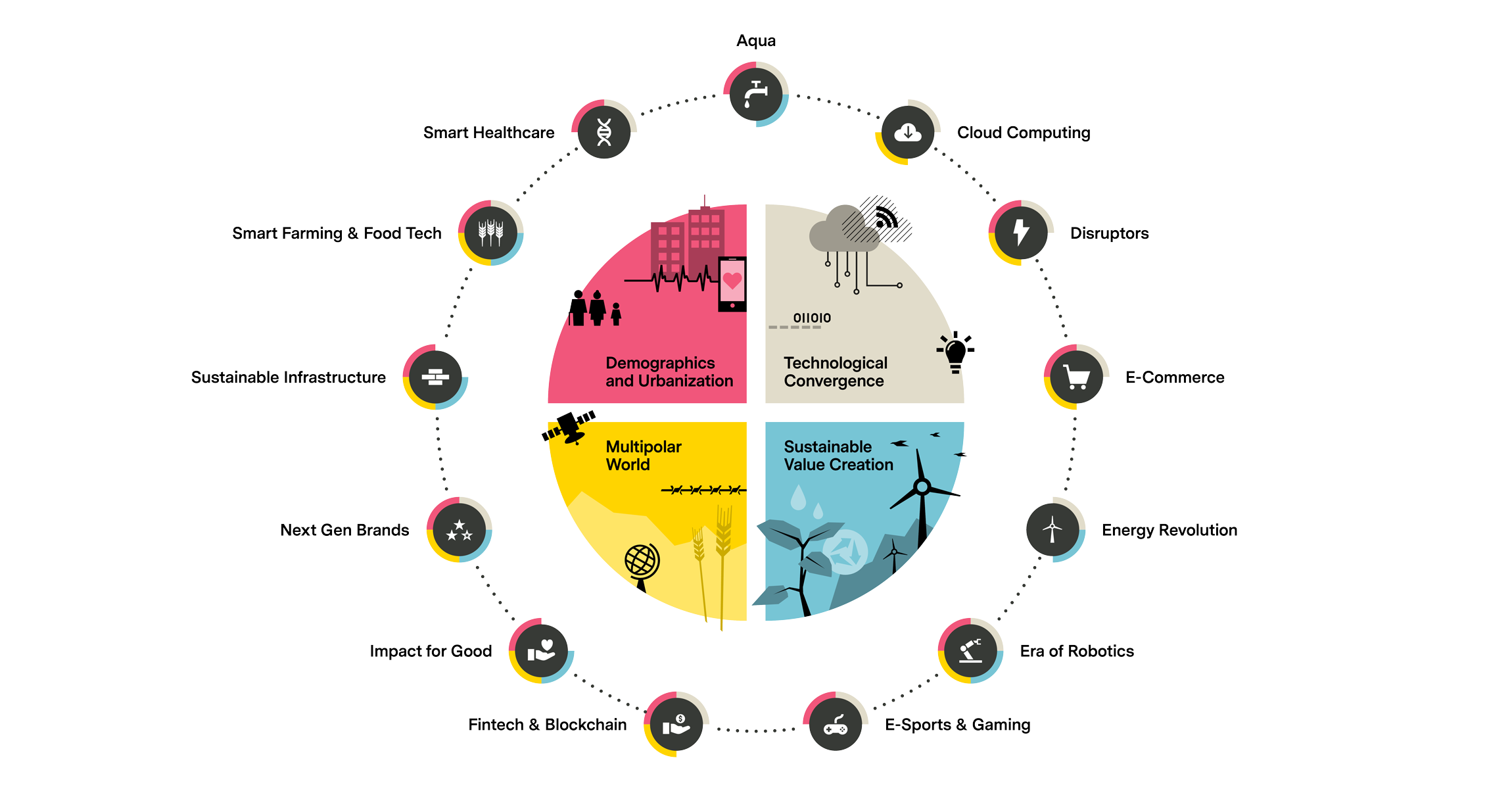 Risk mitigation, diversification and stock-picking
This thematic diagram reflects the high degree of diversification of our megatrends fund where risks in some themes during certain market phases are offset, and ideally more than offset, by opportunities in others. Thus, risk mitigation goes hand in hand with the aim to increase returns. Often, real gems can be found where several megatrends intersect, such as:
Smart farming and food technology. This theme represents an intersection of all four megatrends we have identified: sustainable value creation, a multipolar world, demographics and urbanization as well as technological convergence. The challenges here are the scarcity of arable land and natural resources to feed a growing global population. New technologies help us to sustainably increase production efficiency and reduce food waste.
E-Sports and gaming. This theme sits in the middle between the megatrends technological convergence and demographics & urbanization. Embraced by a younger generation of "e-athletes", digitally enhanced team sports with a huge global audience have the potential to revolutionize the global media and entertainment landscape.
Discover more ways to use megatrends for your investments:
Smart farming, sustainable food production – from billowing fields to crisp portfolios
Pure-play stocks in and outside the benchmark
Let's take a closer look at the investment process. From a top down perspective, we select powerful themes that offer the most promising long-term return potential. We equal-weight them at currently 7.7% each, and manage approximately 300 stocks in total (25-35 stocks in each of the currently 13 themes). The aim is to capture all facets by defining relevant sub-themes. An example for a sub theme could be "factory automation" within the "era of robotics" theme, or "precision agriculture" within "smart farming and foodtech".
For the second step, we pick companies that look set to benefit from the themes we have defined. Our search for suitable portfolio candidates often directs us to smaller, younger and disruptive companies outside of the traditional benchmarks. This can offer additional return potential and heighten exposure to the theme. In order to spot such promising companies, we apply a four-step system to gauge their thematic purity and financial attractiveness. For this, we use a scoring method including:
Thematic purity, i.e. finding companies with relevant revenue/earnings exposure to the theme
Quantamental analysis, which relies on fundamental data alongside programming and statistics
Alternative data such as MSC ESG ratings and "glassdoor" information based on employee reviews, business outlook, CEO approval, and job postings  
Our conviction regarding the company, formed by accumulating public information as well as non-material information that is not public. The aim of this so-called mosaic theory is to get a unique, holistic view of the portfolio candidates.
Stocks are then weighted based on additional factors like liquidity or risk factor exposure.
Drilling down further into the process, we arrive at the company level, where the focus is on agility. Our six investment experts and analysts pick what they consider the most promising stocks, true to Vontobel's tradition as an active asset manager that leaves index-hugging or exchange-traded funds to others. In our opinion, a passive, index-driven investment style is inadequate for our fast-changing world where technological innovations can change entire industries.
Megatrends give rise to a multitude of exciting investment themes and companies. For example, the "smart farming and food tech" theme includes companies such as Deere & Co, the world's largest agricultural machinery company that also delivers connected equipment and software applications. Further examples are DSM, a Netherlands-based company active in areas such as animal and human nutrition, and ingredients used in plant-based foods, or Zoetis, a leading animal health company with products for farm animals and pets.
Why invest with us?
Investors can, of course, concentrate on one or several themes we have highlighted, and pick their own stocks for thematic portfolios. However, we believe our megatrend solution provides access to cutting-edge industries and profitable companies benefiting from structural growth drivers and thematic purity. The portfolio offers a healthy mix of established names and little-known newcomers, resulting in both a high active share and diversification to weather challenging market environments. Our aim is to outperform the market over the long term with a multi-thematic portfolio that is less risky than a global equity benchmark, in our opinion.
According to Wayne Gretzky, the Canadian legend of the ice rink, a good ice hockey player plays where the puck is, but a great player "plays where the puck is going to be". In our view, this also makes the difference in investing