The search for quality growth leads to emerging markets
Progress, Growth and Dynamism: Emerging Markets Move into the Mainstream
In 1980, the International Finance Corporation (IFC) – the private sector arm of the World Bank – began tracking investment returns from less-developed countries around the globe, including Brazil, India, Korea and Mexico. The results were surprisingly good. So good, in fact, that the following year Antoine van Agtmael, then deputy director of capital markets at the IFC, went to a meeting of bankers and advisers in New York to pitch a new fund investing in off-beat markets. While the idea had merit, those present knew that a fund with the title "Third World Equity" would not be positively received by investors. Following that meeting, van Agtmael came up with the term "Emerging Markets". In doing so, he helped overwrite preconceptions of poverty, poor quality goods and even hopelessness with notions of progress, growth and dynamism1.
Today, emerging markets (EM) is a globally-recognized investment class with $5.3 trillion of assets worldwide, with many investors – from pension plans, endowments and insurers to high-net-worth individuals – holding an allocation to developing economies. The number of countries under the emerging markets banner has expanded from just 10 when the MSCI Emerging Markets Index was introduced in 1988 to 26 today. And, while materials was once among the dominant sectors in the Index, financials and information technology stocks now comprise the largest weights.
Some World-Class Companies Can Only Be Found in Emerging Markets
Many emerging markets have matured and are on a path that is converging with the most developed markets.
While many EM companies have benefited from long-term demographic trends, growing urban populations and the rapid adoption of digital technology, others have faltered due to reasons such as political turbulence, currency fluctuations and changes in global monetary policy. A passive allocation to the broad emerging market equity index exposes investors to the variegated nature of EM and all the risks embedded in it.
It raises the question: How do investors identify innovative, highly-competitive EM companies that are true world-class leaders?
In the Vontobel Fund – Emerging Markets Equity, we look beyond the headlines to find well-managed companies with the potential for significant growth ahead. We seek to own great businesses – companies that have sound business models, stable and predictable earnings growth and strong balance sheets – and we let them compound their growth over time.
We don't rely on chasing trends (which, in our view, has proven to be a poor strategy) although we do believe our investments can benefit from them.
In some cases, emerging market companies have achieved success despite a difficult environment, which can be rattled by poor infrastructure, corruption, and loose regulatory requirements. This has forced them to operate at a more competitive level than their developed market peers.
We recognize that some of the top companies in emerging markets can now rival – and even outstrip – those in the U.S. and Europe for performance, quality and sophistication. As active, bottom-up investors, it's our job to find them.
Just as in developed markets, leading EM companies now fall broadly into three categories: domestic, regional and global. Over time, some companies have evolved from local dominant players into established international groups, while others continue to profit from the forces shaping their home markets. We see potential winners in all three categories and shape our portfolio to help capture the benefits.   

HDFC Bank – A high-growth bank in an expanding market
Only one in five citizens in India saved money at a financial institution in 20172. As the #1 privately-owned retail bank in India, HDFC Bank commands 8% market share of an underbanked market that is otherwise dominated by less efficient state-owned banks. With more than 4,500 branches and 12,000 ATMs nationwide, we believe HDFC Bank is well positioned to provide all the services that India's emerging middle class demands, from mobile banking to car loans. Its strict underwriting standards mean that losses are low, while loan growth far outpaces that of the Indian state-owned banks, not to mention many developed market peers.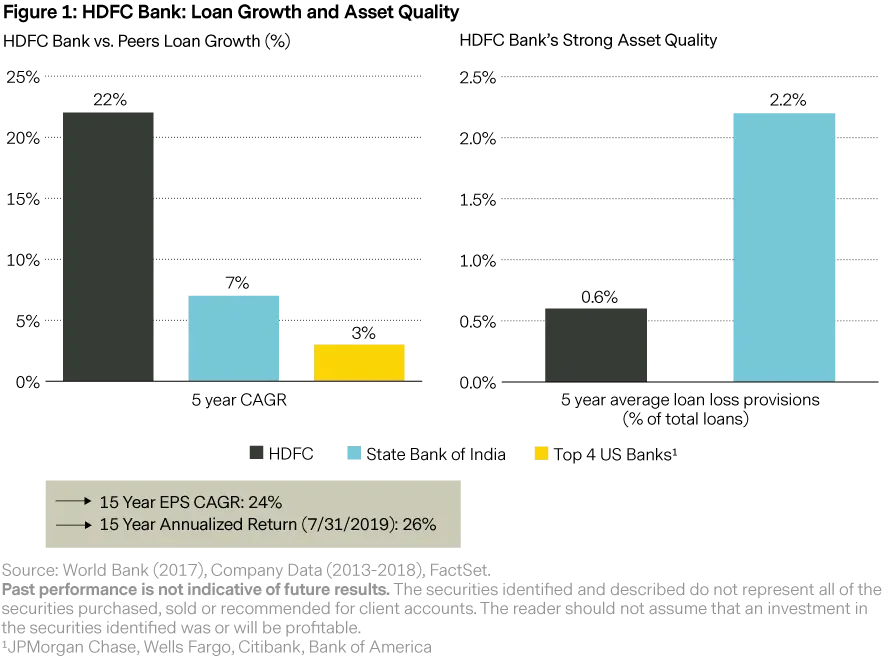 Femsa's OXXO: Consistently growing and expanding
In Mexico, OXXO already has a strong market position – it's the largest convenience store chain that serves 11.8 million customers daily. Owner FEMSA is continuing to expand OXXO's position by targeting the informal market that is made up of small shops. With less than 2% total share of the entire "mom and pop store" market in Mexico, we think OXXO has significant growth ahead of it. Over the past 10 years, OXXO has almost tripled the size of its store portfolio, and has taken its brands into other Latin American countries, including Chile, Colombia and Peru.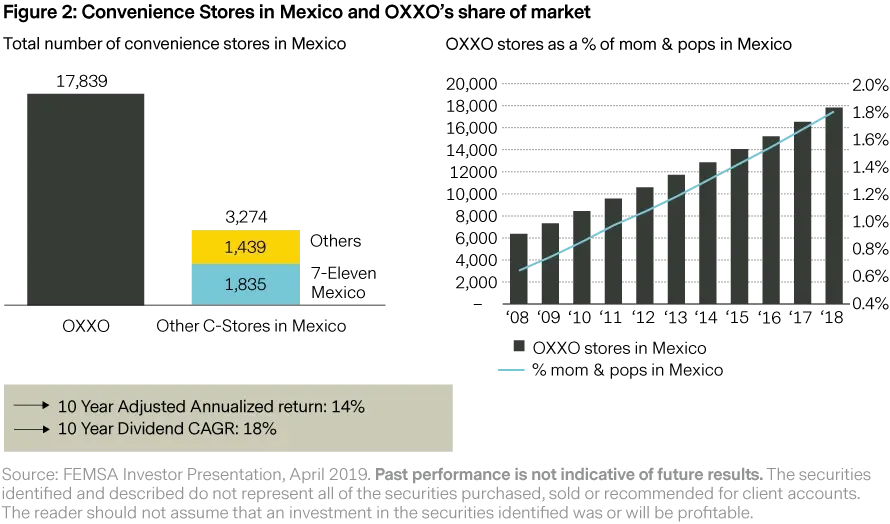 TSMC: The world's #1 pure-play semiconductor foundry
Taiwan Semiconductor Manufacturing Company (TSMC) specializes in manufacturing logic chips (as distinct from memory chips) used in smartphones, laptops, and other internet-enabled products. TSMC currently has 56% global market share and is a leader in manufacturing at 7 nanometers (nm), an exceptional level of scale and sophistication. With few competitors and attractive returns, the company is already best in class. Still, TSMC is working to strengthen its technology moat and performance further. It is building a plant to manufacture chips at 5nm, the complexity and cost of which will limit competition even more and prevent the commoditization of cutting-edge logic chips. And, in turn, this will allow TSMC to keep its utilization rates and ROIC high versus its developed market competitors.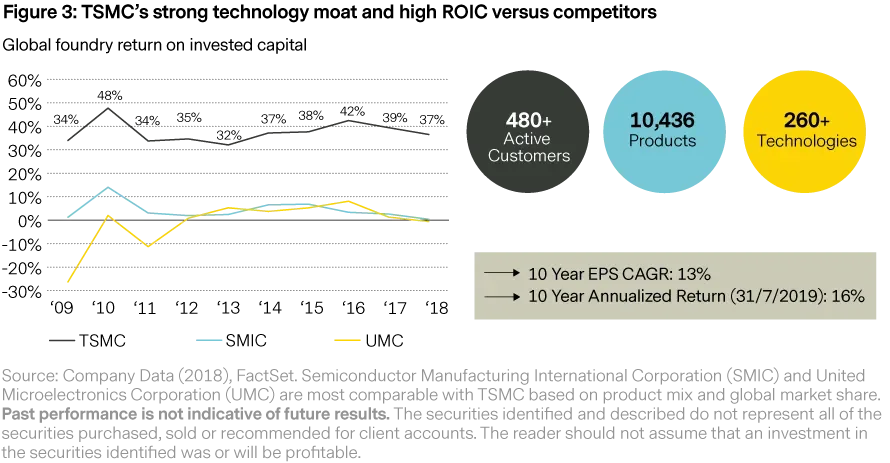 How to invest in emerging markets:
The Vontobel Fund – Emerging Markets Equity
A relatively healthier underlying structural picture has developed in emerging markets since van Agtmael first coined the moniker nearly four decades ago.
Like developed markets, emerging markets have evolved -- and where a company is headquartered is increasingly overshadowed by where it earns its profits and charts its future. And some powerful EM franchises no longer need to rely on prevailing trends in the ecosystem where they operate in order to be profitable.
This is why we believe that a bottom-up approach that focuses on individual companies – not countries or themes – is the best way to generate returns in emerging markets.
Investing in a group of carefully selected high-quality growth businesses with resilient earnings growth can protect capital when the next downturn occurs. We believe investors can receive the benefit of compounding returns alongside the earnings growth of these businesses over the long term. Many emerging markets offer a rich path of long-term investment opportunities – it's just a matter of finding them. As active, quality growth investors, the search for quality has led us to emerging markets. We expect the evolution of quality emerging markets businesses to deepen and broaden for many years to come.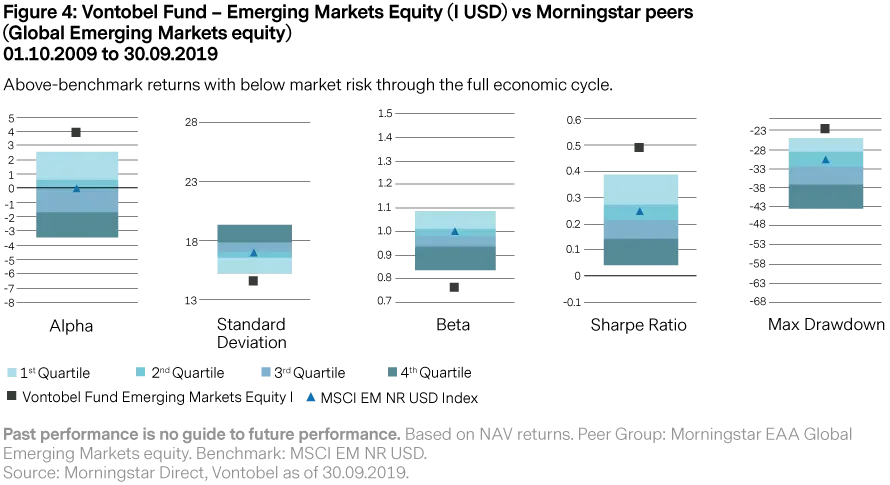 Vontobel Quality Growth Research Team: Uniquely Positioned to Uncover Opportunities in EM
Company fundamentals are the key driver of equity returns. But emerging market companies are not as widely covered by equity analysts as those in developed markets. That means a skilled, experienced and well-staffed investment team is essential to uncover opportunities not fully recognized by the broad market.
Manage $15 billion in EM equities for institutional and individual investors worldwide (as of 31 Aug 2019)
At the forefront of the development of EM as an asset class – managing the Vontobel Fund – Emerging Markets Equity since 1992 (B-shares)
34 investment professionals averaging 21 years industry experience
Research team with on-the-ground coverage and diverse backgrounds – nine nationalities represented and 10 languages spoken
https://www.ifc.org/wps/wcm/connect/corp_ext_content/ifc_external_corporate_site/about+ifc_new/ifc+history/establishing-emerging-markets
Source: World Bank (2017), Company Data (2013-2018), FactSet.
Opportunities
"Quality growth" investment style aimed at the preservation of capital.

Invests primarily in securities of companies that have relatively high long-term earnings growth and above-average profitability.

Broad diversification across numerous securities.

Possible extra returns through single security analysis and active management.

Gains on invested capital possible.

Use of derivatives for hedging purposes may increase subfund's performance and enhance returns.

Price increases of investments based on market, sector and company developments are possible.

Investments in emerging markets may be affected by political developments, currency fluctuations, illiquidity and volatility.
Risks
Investment style may lead to more heavily concentrated positions in individual companies or sectors.

Limited participation in the potential of single securities.

Success of single security analysis and active management cannot be guaranteed.

Derivatives entail risks relating to liquidity, leverage and credit fluctuations, illiquidity and volatility.

Gains on invested capital possible.

Price fluctuations of investments due to market, industry and issuer linked changes are possible.

Investments in emerging markets may be affected by political developments, currency fluctuations, illiquidity and volatility.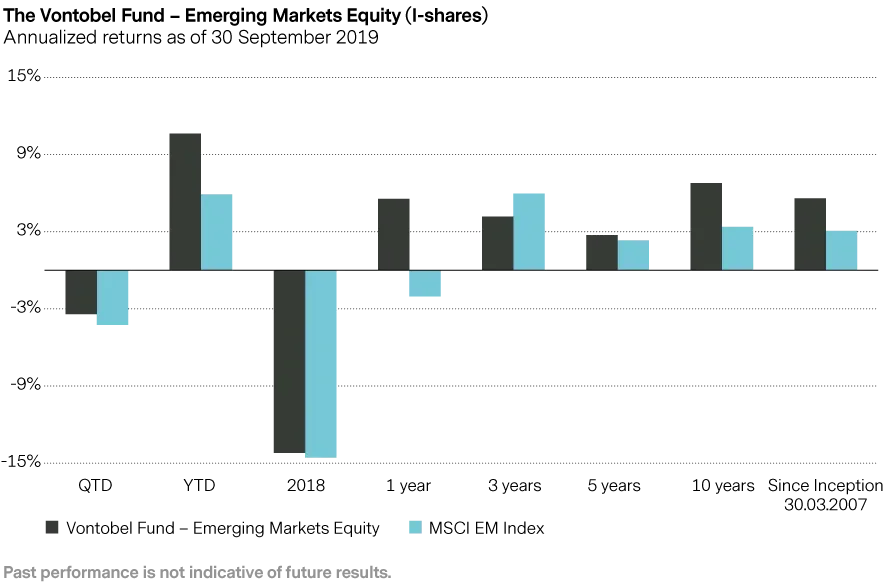 FUND CHARACTERISTICS

Share Class

Vontobel Fund – Emerging Markets Equity I

Reference Index

MSCI Emerging Markets Index

Currency

USD

Inception Date

30.3.2007

Reporting Period

30.3.2007 – 30.9.2019