Inflation and forex in the spotlight
The cycle and the spreads: 20 September 2022
Monetary policy impact lags the decision by months, hence the current uncertainty
The Swiss National Bank cannot afford to be cautious and needs to keep the pace
Asian local-currency debt suffered from lagging inflation compared to other EMs
Mind the time lags between monetary policy decisions and their effects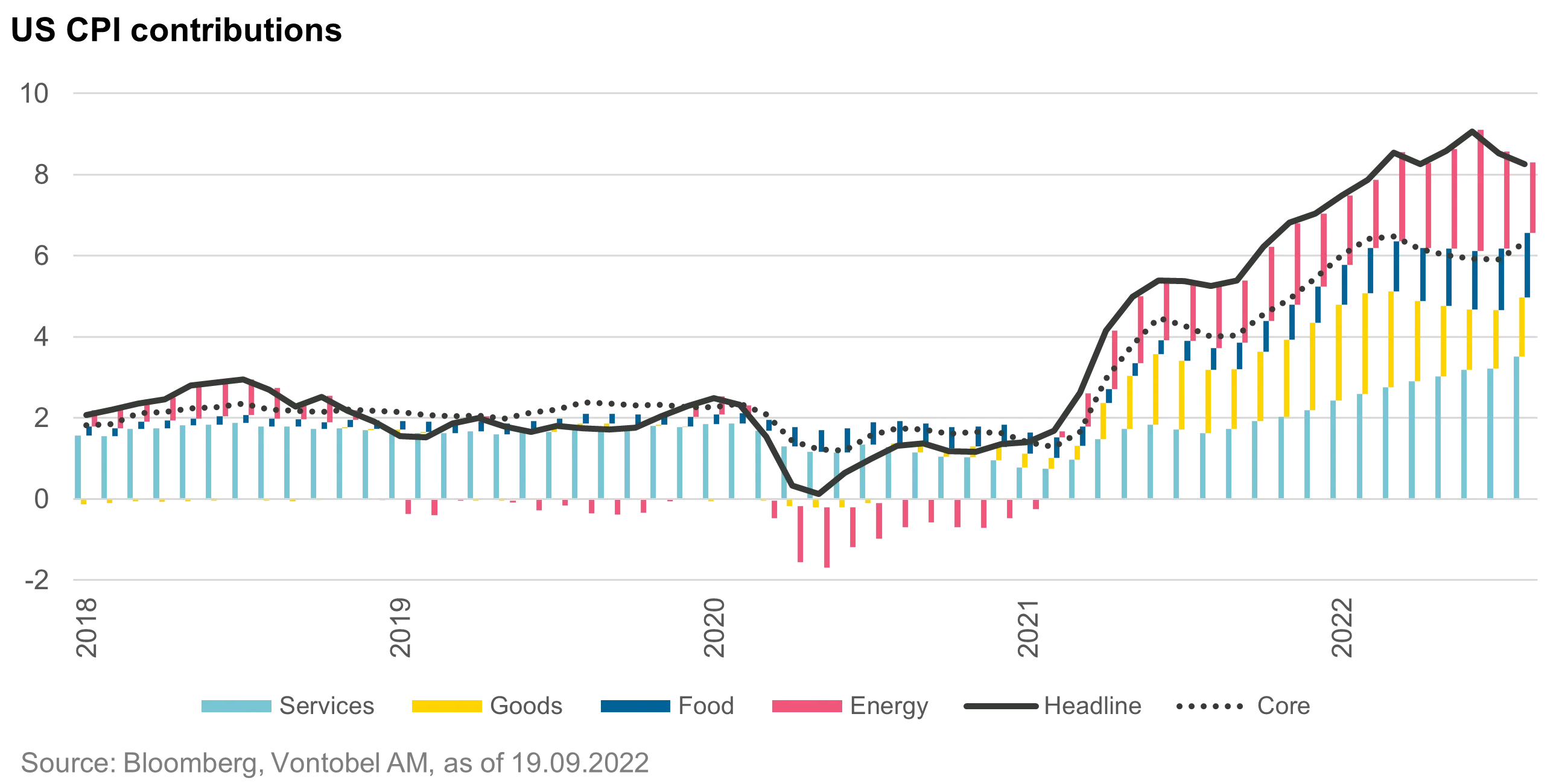 The release of US inflation data for August last week brought back some volatility to financial markets. Disinflation is visible in the headline figure (8.3% compared with 9.1% in June) thanks to the decline in energy prices. But core inflation has rebounded to 6.3%, as the contribution from services (3.5%, in light blue above), particularly rents, grew strongly.
Interest-rate curves as a whole have been revised upwards – and not only in the US. Some investors are now expecting the US Federal Reserve to raise rates by 100 basis points this week. We believe it will be 75 bps. The hike is the third of this magnitude and represents an exceptional pace from a historical perspective.
Indeed, one should not ignore the many other data releases last week. Producer prices continue to decline, as do household inflation expectations. Household demand continues to slow, as retail sales showed. Moreover, the time lag between rate hikes, price slowdowns (headline and core) and activity are not an exact science. Hence, some of our portfolio managers have bought back US Treasuries.
On Wednesday, the Fed's new growth, unemployment and inflation forecasts will also be in focus with this question in mind: how much higher does the Fed think it needs to raise rates and unemployment in order to control inflation without causing a recession? A recent study shows it remains possible, although with narrowing odds. A spiraling wage-inflation dynamic remains the main risk.
Finally, central banks in England, Sweden, Norway, Switzerland (see below), Brazil, Indonesia, South Africa, the Philippines, Turkey and Taiwan will be meeting this week. We will provide an overview next week.
Switzerland's growth and inflation forecasts could force the SNB to intervene in forex
The SNB is expected to raise rates by 75 bps to 0.50%, but many market participants are anticipating a 100 bps hike on Thursday. The tone that will come with the rate announcement will be highly important for the level of the Swiss franc.
The SNB has only four meetings a year, therefore under-delivering is not an option it can afford this time, since the prevailing mood at central banks around the world is front loading (i.e. hiking aggressively now, stop early into next year). If you annualize the ECB's current 75 bps pace, for example, then the SNB can hike 100 bps this week and still fall behind its neighbor's pace.
What could also keep the SNB's tone hawkish is the exchange rate, which plays a central role in its reaction function. Indeed, the excessive inflation is largely imported. Prices of foreign goods and services are up 8.6% on the year, while domestic prices are up 1.8%. The main concern in the near term will be to avoid a weakening of the franc.
The issue for the SNB may come next year if, as expected, growth and inflation come back quicker toward long-term averages (figure above) compared to other developed countries. The SNB might still want a strong franc. It can then use its vast forex reserves and quantitative easing instead of hiking interest rates to support the currency.
Asia under more forex pressure than Latin America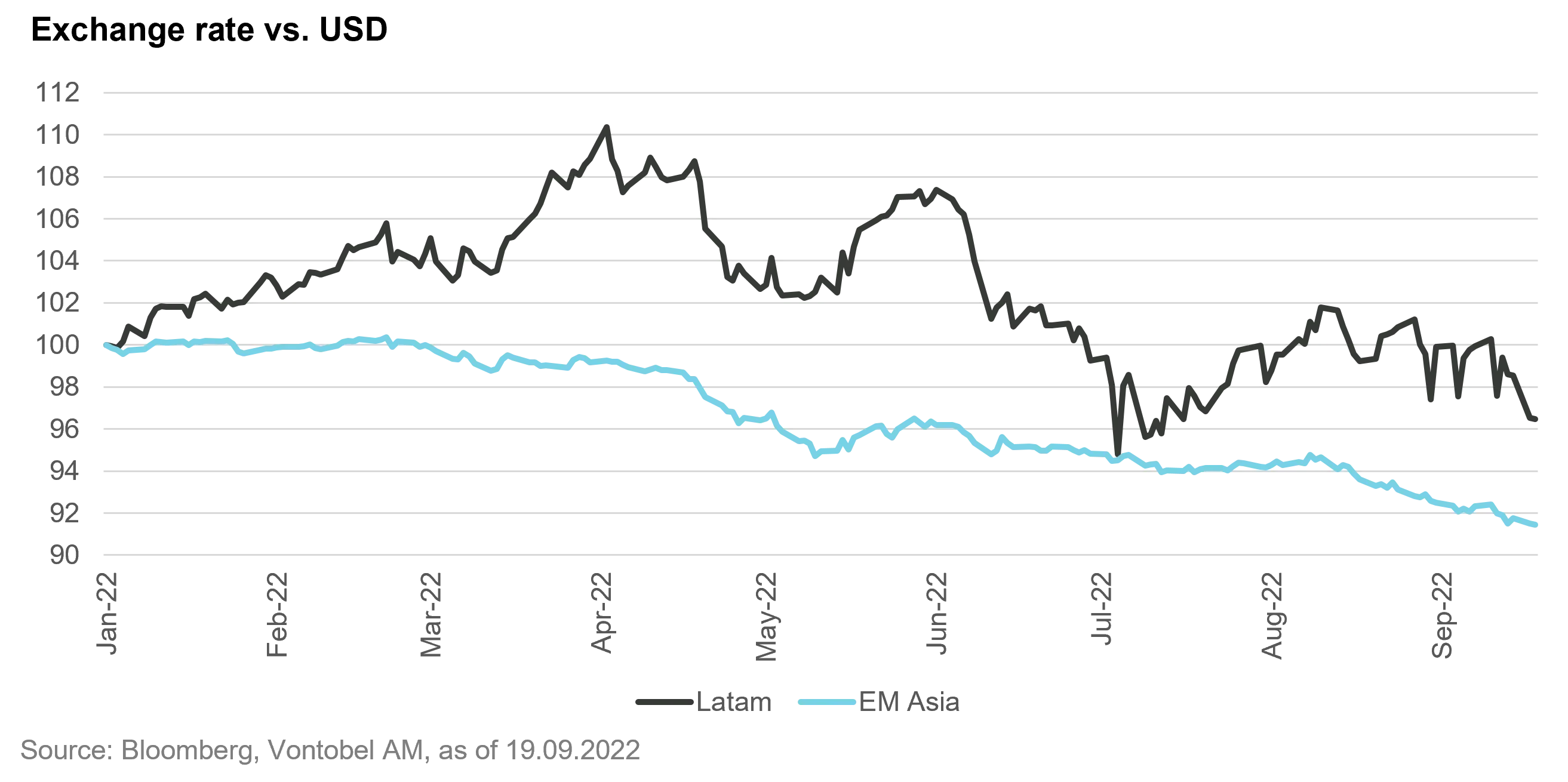 Over the last three weeks, we have been focusing on regional cyclical trends across emerging markets. First, we delved into Latin America, which appears to be ahead of the global cycle thanks to more aggressive monetary policy reactions. Then we touched on Brazil, which reopened earlier and had milder Covid-related restrictions.
Last week, we explored trends in emerging Europe, which is facing the highest regional inflation rates due to its dependency on imported gas but also overheating economies before the Russian invasion of Ukraine. What about Asia, which is facing a strong deceleration in its external demand, particularly the tech sector (see The cycle and the spreads: 13 September 2022 )?
Far from the conflict in Europe, with the lowest inflation rates in the world and now with commodity prices declining globally, Asia should have been in a good place. When looking at year-to-date total returns on emerging markets local-currency debt, Asia is down by 6.7%, which is indeed better than the JP Morgan Government Bond-Emerging Markets index (-15.5%, or -10% excluding Russia).
Yet, Asia's performance has been much worse than Latin America, which is only down by 0.3% on the year despite much higher inflation, and is edging toward double-digit interest rates in a few countries.
In fact, much depends on the currencies. Despite less stressed and volatile macroeconomic patterns, Asian currencies depreciated much more than Latam ones against the US dollar – by 8.7% and 4% respectively. The Chinese renminbi has driven attention by breaking the seven-to-the-dollar threshold, but the Korean won has now been depreciating consistently for 18 months, losing 25% since January 2021.
The yen and the "no-move policy" of the Bank of Japan probably exerted a strong downside pressure here, as both countries' exporters compete in many industrial segments. And, of course, lagging inflation pressure triggered slower moves from local central banks compared to Latam in particular, hence higher interest rate differentials.