"It's the energy, stupid"
The cycle and the spreads: 14 June 2022
No let-up in oil prices
The ECB pivot is now … but fragmentation weighs heavily on the euro zone
The unique case of Central & Eastern Europe's economies
Oil prices stay at the high end of the range and delays base effects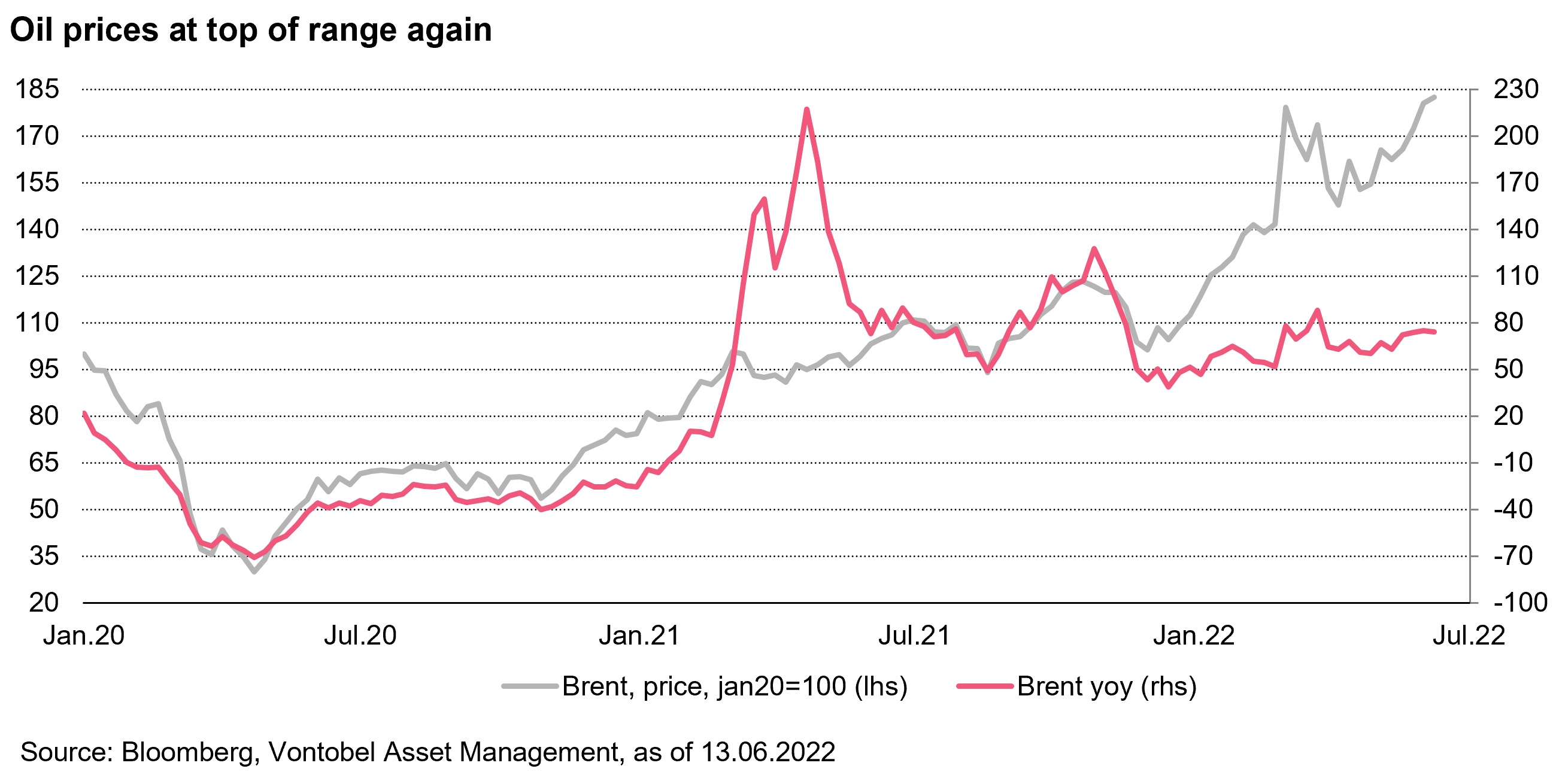 At around USD 120 per barrel for the WTI and USD 125 for a barrel for Brent, oil is back to the top of its range. It is close to 85% higher than the prices in January 2020 (grey line) – commodities are overall 50% above levels seen pre-Covid.
The global oil supply and demand balance was already tight before the Russian invasion of Ukraine, at roughly around 100 million barrels/day on both the demand and supply side. We had been expecting a recovery of US shale supply to compensate for Russia's decline and this has happened to some extent, but not nearly enough to offset the current anxieties on the supply side amid ongoing delays on an Iranian nuclear deal and supply disruptions in Libya.
A direct consequence is the delay in base effects (pink line). Considering Friday's US inflation figures, the issue becomes even more important. Indeed, energy contributed almost 2.5% out of the 8.6% inflation recorded in the US in May, compared to 2.1% in April. Positive base effects were beginning to materialize, but oil prices have resumed their ascent in May. In the euro zone, the contribution of energy to total inflation is even more massive, reaching close to 50% of the total.
As far as US inflation is concerned, firstly, the rotation from goods to services continues to take place – the contribution of goods has fallen from 2.5% in February to 1.7% currently. Secondly, the rent component continues to accelerate (+5.4% year on year), but the slowdown in real estate activity suggests a stabilization. And thirdly, core inflation in the US is slowing down.
James Carville, Bill Clinton's strategist, in 1992 famously said "it's the economy, stupid". Today, one could imagine he would say "it's the energy, stupid". But, nevertheless, the show must go on in developed markets' central banks (see next story), as the labor and housing markets run too hot in most of them.
The central banks' show must go on in developed economies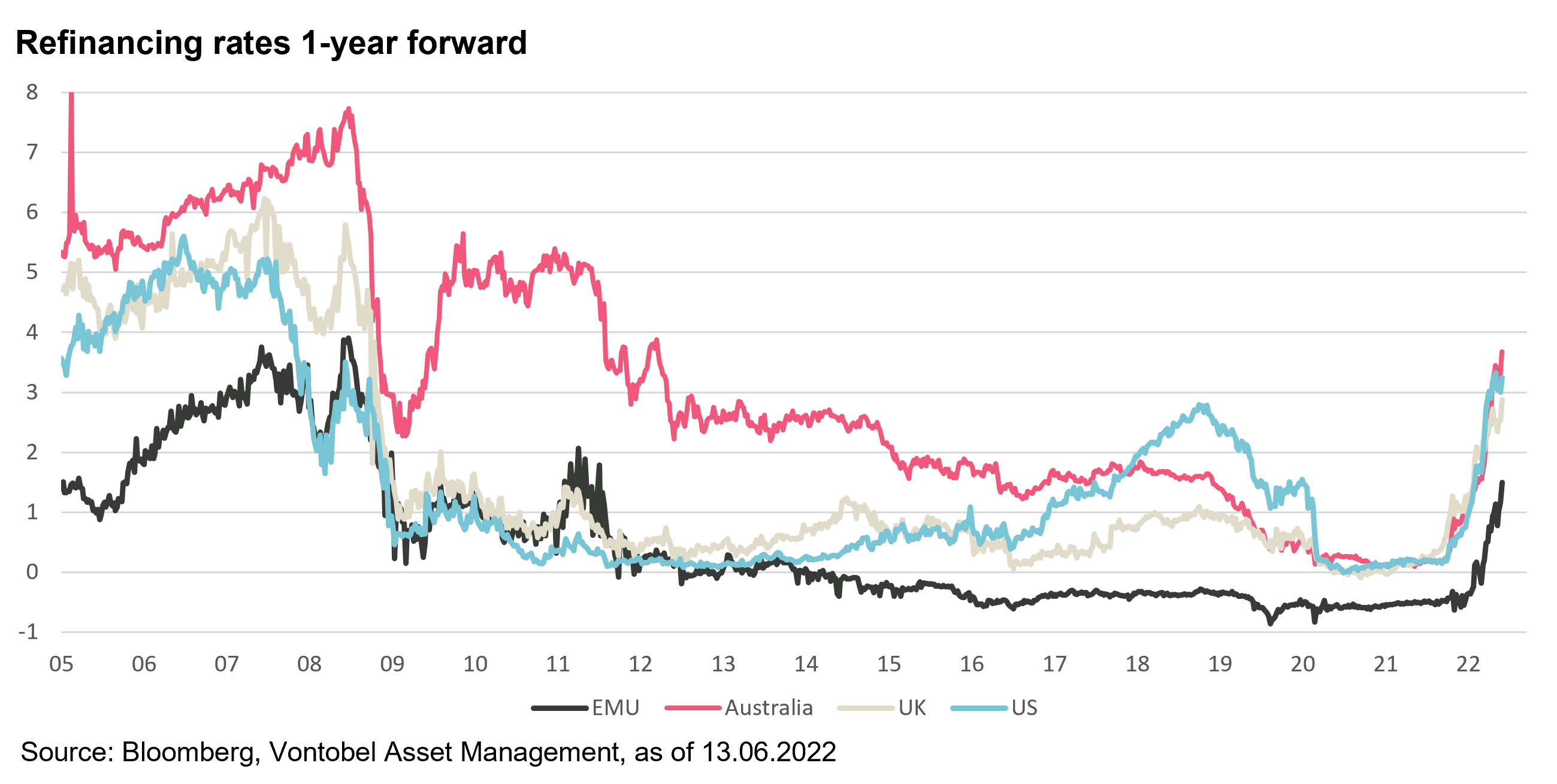 Last week, the Reserve Bank of Australia surprised on the hawkish side, hiking its main refinancing rate to 0.85% (+50 basis points) instead of an almost unanimously expected hike of 25 bps, to 0.6%. The governor also delivered a hawkish press conference.
Little surprise on the side of the ECB: it "announced" a 25 bps hike for July's meeting, and highly probably a 50 bps one in September, ending the negative rates experiment. The hawks have taken the lead. And market participants now even price close to 250 bps hikes over the next 12 months.
As the ECB operated its pivot, one could have expected a tailwind for the European currency. Instead, the EUR lost more than 1% against the USD that day. Fragmentation and intra-European spreads fears dominated the debate in the aftermath of the decision and conference. Thursday, the Bund-BTP spread gained 15 bps, almost twenty more on Friday plus Monday – now standing at 2.35% – and the move may not be finished. Many were expecting the ECB to announce a tool to mitigate the effect of higher rates on intra-European spreads, but Ms. Lagarde did not mention any measure coming soon.
This week will be the Fed's turn. The probability of a 75 bps hike in the Fed Funds grew tremendously, plus a hawkish tone of course. Data dependency should also be reminded somewhere. So probably, the DOTS – the Board's members individual forecasts – will be the movers.
Inflation has skyrocketed in central Europe (Poland, Czechia, and Hungary)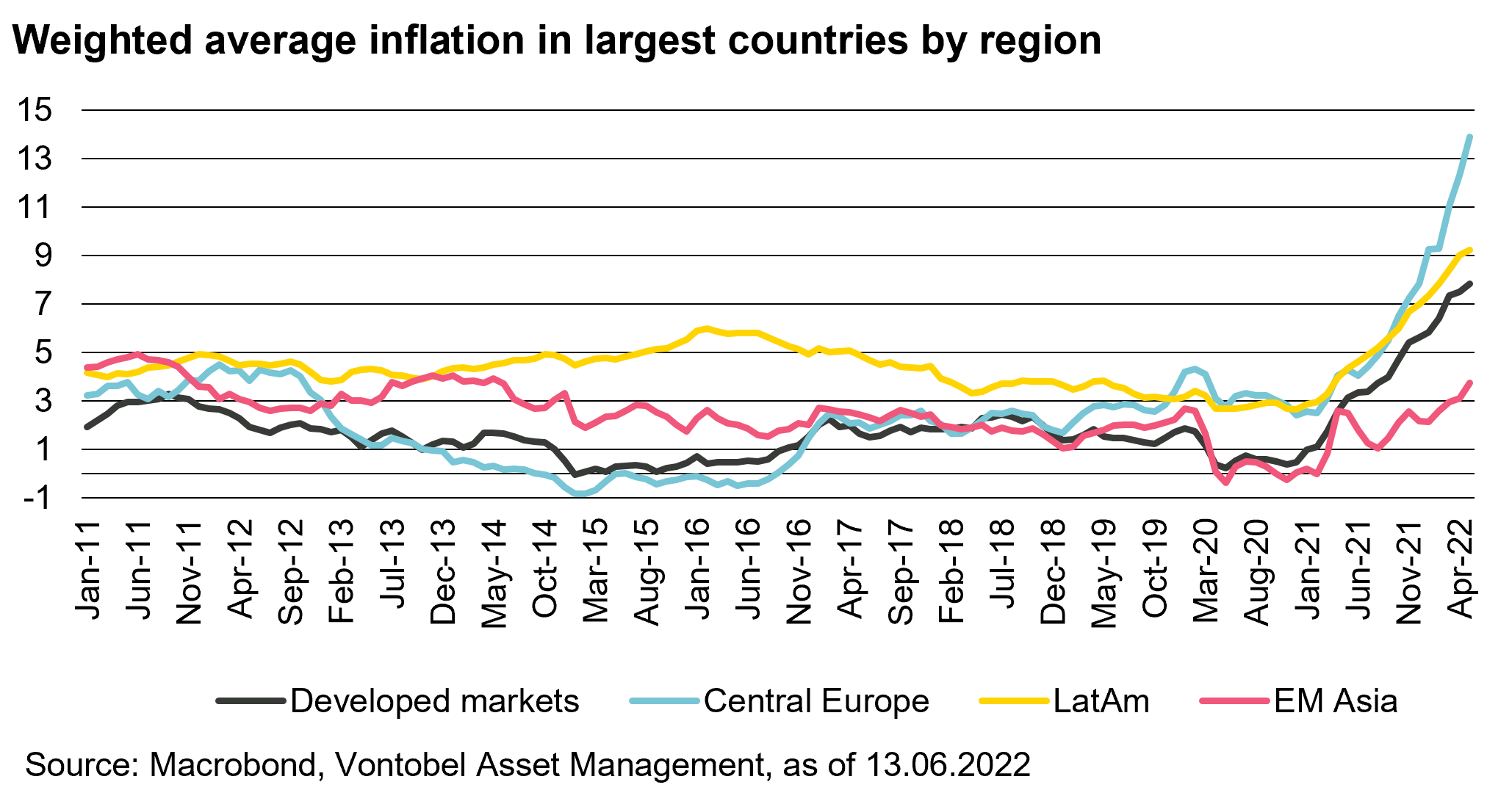 Inflation in central (Poland, Czechia, and Hungary) and eastern Europe has been badly hit by higher commodity prices and by sanctions on Russia, reaching 14% on average in May and becoming the highest inflation region.
This is partly explained by their close trade links with Russia causing supply chain disruptions. Moldova is an extreme example, where inflation hit 29% in May, partly because Russia was the country's largest trading partner (and Ukraine the fourth).
Many years of strong GDP and wage growth, plus low interest rates, as well as the relatively slow response of their central banks are also to blame. Central bank policy rates are at or slightly below 6% in Poland, Czechia, and Hungary, and real yields on their local currency bonds are now extremely negative, which is why we do not favor the region in local currency EM debt.
Wages in Poland (+14%) and Hungary (+17.5%) have been keeping up well with inflation – not so much in Czechia, where wage growth is below inflation. This will tend to make inflation more persistent than in the euro zone where wage growth stays muted.
In contrast, central banks in Latin America, where inflation is high but not much higher than in developed markets, have been hiking rates ahead of the curve. Local-currency bonds in Brazil and Colombia are looking quite attractive.