Normalization goes on – on most fronts
The cycle and the spreads: 13 September 2022
ECB keeps door open for jumbo rate hikes
The North Asian exports deceleration reflects lower global demand for goods
Emerging Europe is suffering from the highest inflation rates among large EMs
Narrowing yield spread between the euro zone and the US will support the euro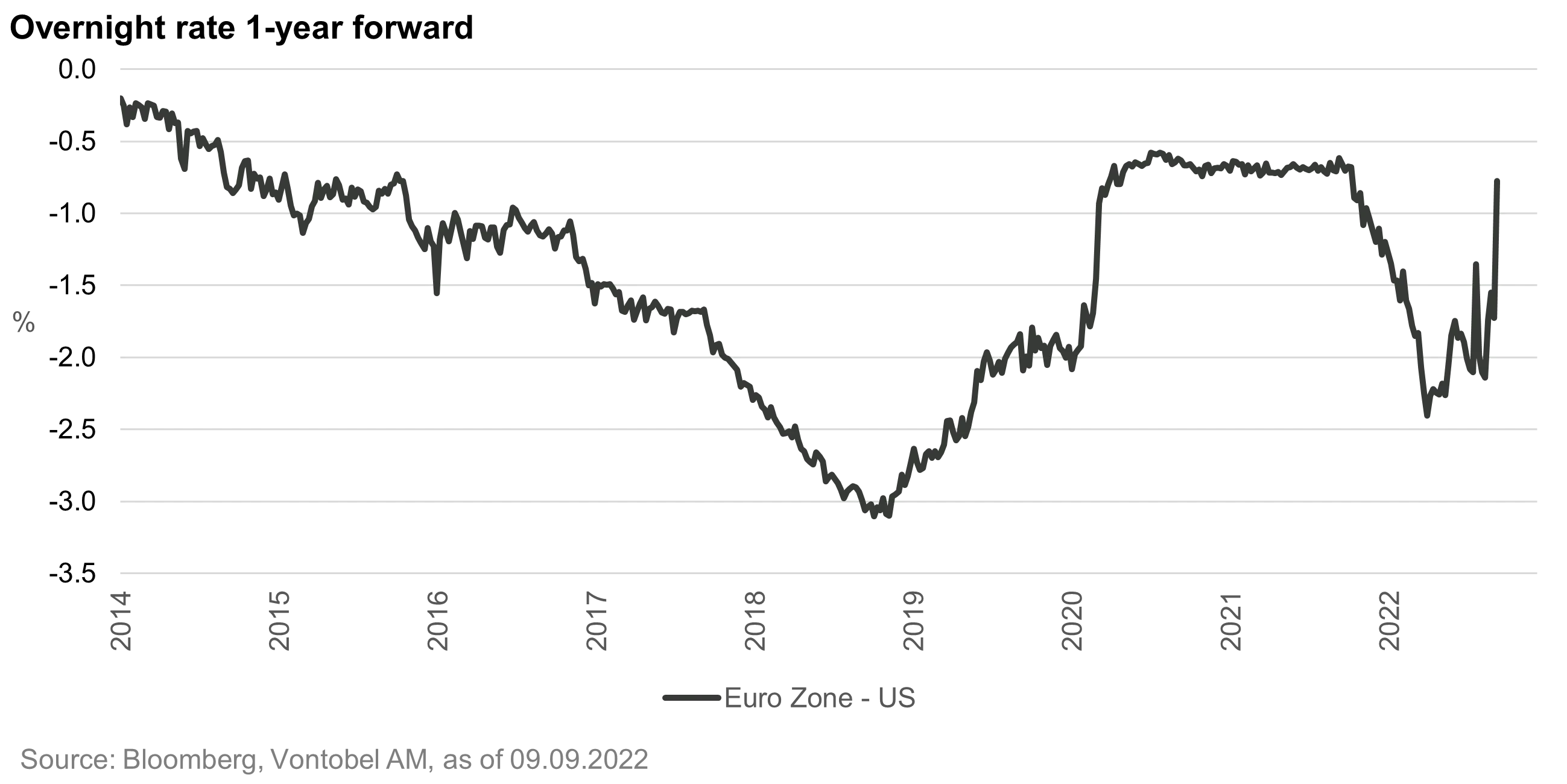 Last Thursday, investors were awaiting information on at least four topics from the European Central Bank. In addition to the rate decision, the ECB was expected to release its new growth and inflation forecasts. The euro and the Transmission Protection Instrument (TPI) were the other two topics of interest. The TPI is a new tool designed to ensure the effectiveness of monetary policy by smoothing excessive volatility across the euro zone sovereign yields.
Regarding the euro and TPI, President Christine Lagarde's comments were laconic. The ECB is well aware of the impact of a weak euro on inflation, but it does not and will not target any exchange rate level. And on the TPI, she declined to give details, while affirming that the central bank was ready to act.
The ECB's new forecasts roughly caught up with consensus, with 3.1% growth for this year, 0.9% for 2023 and 1.9% for 2024; and inflation of 8.1%, 5.5%, and 2.3% respectively. A recession at the end of 2022 is only one of the possible scenarios for the ECB, and only in case of energy rationing that lead to production cuts.
The highlight of the show was the 75 basis points rate hike, an unprecedented pace for the ECB. Above all, the door was left open for further hikes, including jumbo ones. Ms. Lagarde said it could take three to five meetings to reach the "desired rate", but didn't mention a target. In the end, the expected rate differential in one year forward between the euro zone and the United States has narrowed significantly (see graph) – this should make European debt attractive again, as well as stabilize and underpin the euro.
Asian manufacturing under pressure from decelerating global demand for goods
China is not the only Asian country suffering from the slowdown in global demand for capital and consumer goods. The latest trade figures for Korea and Taiwan show that manufacturing is slowing across the region.
On a quarter-on-quarter basis (3 month/3 month rolling, see graph above), Korean exports returned into contraction territory in August, down nearly 5%. In Taiwan, the dynamic remains in expansionary territory, but this is not expected to last. Singapore data, to be released next week, should confirm the downward trend. Incidentally, South and Southeast Asia look less affected, with the domestic cycle still prevalent and dynamic.
Trade data from the US, also released last week, reflect this slowdown in Asia. Imports of both capital and consumer goods have been contracting since June, and on a rolling quarterly basis. Imports from Northern Asia look to have peaked. And the US Federal Reserve's stated intention to slow domestic demand will not help.
In China, August imports, which fell far short of expectations, confirmed the weakness of domestic demand ( see Cycle and the Spreads, 23 August ). The country is now even experiencing significant disinflationary pressures, as seen in August producer and consumer prices, which slowed to 2.3% (compared with 13.5% in October 2021) and 2.5% respectively, against all expectations.
What now? Let's bet that the contribution of goods to US inflation, published next week, will continue to decrease. Also, support measures for the domestic economy will continue in China (rate cuts) and will strengthen elsewhere in Asia. Finally, chip prices, which have been falling for months, will not bounce back immediately.
Emerging Europe remains the most inflationary region by far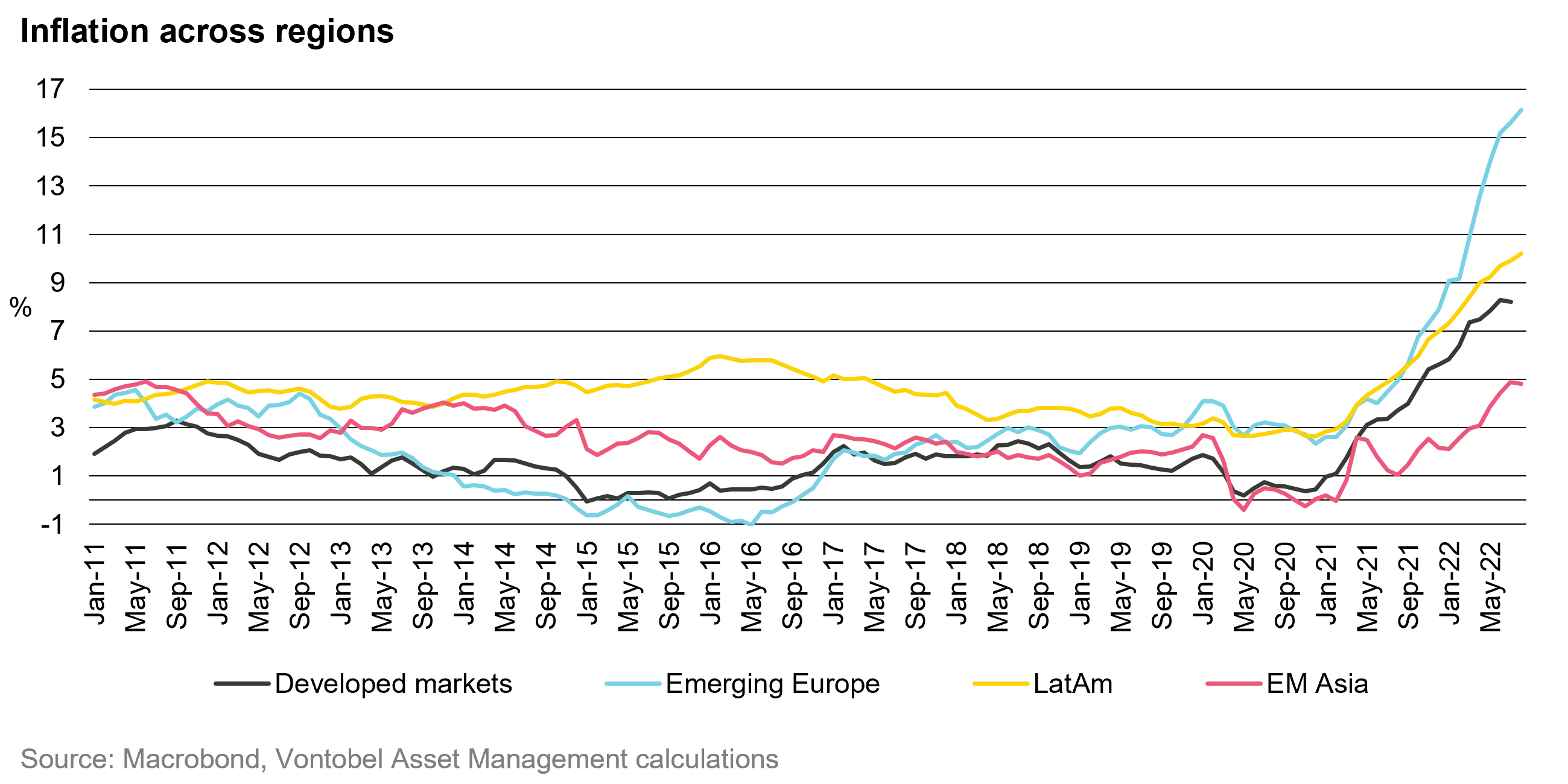 Last week, we highlighted that a few countries in Latin America would likely see double-digit policy rates in the short term and that in the case of Chile, the economy seems to be entering a technical recession. The focus shifts to emerging Europe this week, the region with the highest inflation rates among large economies, driven by higher energy prices and – in some cases – the curbing of trade with Russia.
The weighted average inflation in Poland, Czechia, Hungary, and Romania (the largest investable countries in the region) surpassed 16% year on year in August (chart above). Yet, only Hungary's central bank has hiked its policy rate to double-digit territory (11.75%), while the others have been less aggressive with rates ranging from 5.5 to 7%. Hungary's inflation has accelerated the most in the last six months with no sign of abating amid currency weakness. We see initial signs of inflation decelerating in the other three countries, but they're still far from experiencing significant disinflation amid monthly inflation rates above 1%.
A silver lining is that there's been some progress regarding the rule of law dispute between Hungary and the European Union. This could result in the release of EUR 6 billion in EU funds in the short term. Markets have taken notice: the Hungarian forint has started to recover and spreads on its external debt dropped significantly last week.
Due to this high-inflation (and not-so-high interest rates) environment, our local-currency portfolio managers do not tend to favor this region, although they see some value in Hungary lately. On the hard-currency front, we favor Hungary and Romania's investment-grade rated debt, although the former is now less attractive after last week's rally.