Smart farming, sustainable food production – from billowing fields to crisp portfolios
"Milk's gone up" is one of the first lines of Margaret Thatcher, played by Meryl Streep in the 2011 film " The Iron Lady ". This cinematic masterstroke by director Phyllida Lloyd at once captures the essence of the former UK prime minister's thinking rooted in her humble origins as well as the political battles she fought over the price, which in her time was state-controlled. The movie scene is humorous, but there's nothing funny about rising food prices, which have helped to topple kings and governments, from the French Revolution in 1789 to the Arab Spring in 2010.
Food prices, particularly those of vegetable oils, sugar and cereals have recently taken the biggest jump in more than a decade, according to the Food and Agriculture Organization of the United Nations (FAO).1 This spells trouble for consumers as well as governments. The classic way of handling this problem through price controls for agricultural produce is no long-term solution. A more sustainable way of tackling surging prices and food shortages could be smart farming. The term has come to signify environment-friendly and data-reliant farming techniques encompassing precision agriculture (data-based monitoring of fields to enable early detection of anomalies such as diseases and targeted application of fertilizers or pesticides), vertical farming (plants grown in shelves), or aquaculture (e.g. fish farms). What's more, the companies that drive such developments could not only help to reduce hunger in poorer regions of the world, but also fertilize portfolios.
More food without biodiversity loss
In theory, there is enough food to feed everybody on the planet. Even so, production is expected to increase by 70% to meet additional demand given prospects of the global population growing to 9.7 billion people by 2050, according to estimates from the United Nations (UN).2  At the same time, farmers face old and new challenges such as the limited availability of arable land, the rising demand for fresh water, declining crop yields and a loss of biodiversity. Extreme weather conditions resulting from climate change make matters worse still. Similar to the international efforts to tackle global warning, there are initiatives to make farming more sustainable, moving away from monocultures and pesticides while reducing the use of antibiotics in animals.3 One such example is the European Union's Farm to Fork strategy, which includes targets such as increasing the share of organic farming to 25% from the current 8% by 2030.4
The global market for smart farming will be worth approximately 23 billion US dollars in 2022, plowing ahead at a staggering compound annual growth rate of 19.3% since 2017, according to BIS Research estimates (see chart 1). The sector's fastest growing segments are livestock monitoring and management solutions and indoor farming (see chart 2).
From old-school to new-age agriculture and food production
Agriculture has been a place of innovation before, and not just in terms of food production techniques. For example, the need to manage American farmers' crop yields and profits gave rise to futures trading at the Chicago Board of Trade,5  later renamed to the Chicago Mercantile Exchange. The ongoing digitalization of agriculture opens up new possibilities for farmers and companies to show their mettle.
The following five pillars are of particular interest when looking at the future of food.
Digital agriculture: From circuit boards to plowshares – farmers are increasingly using specific data, sensors and robotics to increase their yield. The use of satellite technology in the vast Midwestern plains of the US is now standard. The ever-increasing flow of information opens opportunities for precision planting, fertilization and irrigation methods.
Crop, plant and animal science: Agriculture and animal husbandry are constantly evolving. If crops, plants and farm animals can become more resistant to disease or climate change, for example, humans will benefit. This process can involve genetic research to establish specific strengths and weaknesses. The crop, plant or animal is then bred either to preserve its genetic diversity or to improve its genetic quality.
Controlled-environment agriculture: Crops are grown indoors, where input factors like water, light, temperature, humidity, CO2 and nutrient concentration can be controlled. An example is vertical farming, which enables food production closer to or in cities.
Animal health and human welfare: Healthy farm animals mean healthier consumers. This involves solutions that prevent diseases, improve the treatment of sick animals and control the outbreak of diseases. For people eating less meat or none at all, plant-based proteins can be an alternative, and their taste can be improved with food ingredients. Consumers looking for better nutrition can disclose individual data for specific recommendations.
Enhancing the food supply chain: An estimated 30% of the food produced for human consumption globally is lost or wasted somewhere along the supply chain due to inefficient production and logistical problems, according to the FAO.6 Moreover, a lot of food still fit for consumption but unappealing to the eye is thrown away, or goes to waste due to poor stock management. Such problems can be solved by waste tracking systems, for example.
Discover more ways to make an impact with your investments:
How we as investors can help making human lives better
Building blocks for a super cycle in clean energy
Make your money matter – creating impact through public equity
The smart farming ecosystem has already spawned a range of innovative companies.
Under our Global Impact Equities strategy, we are looking at Ireland-based Kerry Group, which supplies food ingredients and flavor products to the food and beverage industry. This company specializes in providing natural ingredients to replace artificial ones, offering a wide range of plant-based, allergen-free, organic products.
On the 3-Alpha Megatrends side, we can cite examples like Deere & Co, the world's largest agricultural machinery company known by its leaping deer emblem. It also delivers connected equipment and software applications enabling farm operators to increase their productivity and sustainability. Less well known perhaps is Corteva, the former agriscience arm of DowDuPont spun off in 2019. Part of its research aims to identify desirable plant genes that support resistance to specific diseases or climate types, enabling a decreased use of chemicals. Further examples include DSM, a Netherlands-based company active in areas such as animal and human nutrition, and ingredients used in plant-based foods, or Zoetis, a leading animal health company with products for farm animals and pets.
Food for investment thought
So whether you are turning vegan, developing a taste for antibiotic-free meat, or putting together a smart-farming portfolio, you will have plenty to discuss around the kitchen table. In any case, the primary ingredients for a tasty dish will be at the center of your attention. And whether these will come from a field, a bioreactor, or a portfolio manager's shelf – there will be much to fill your stomach and hopefully line your pockets as well.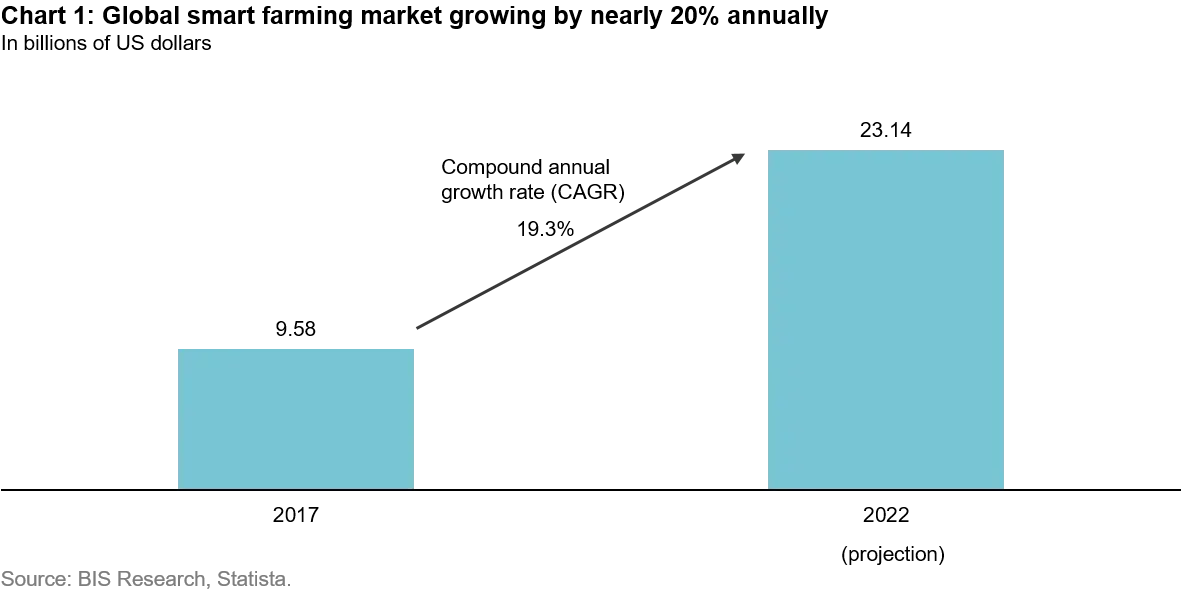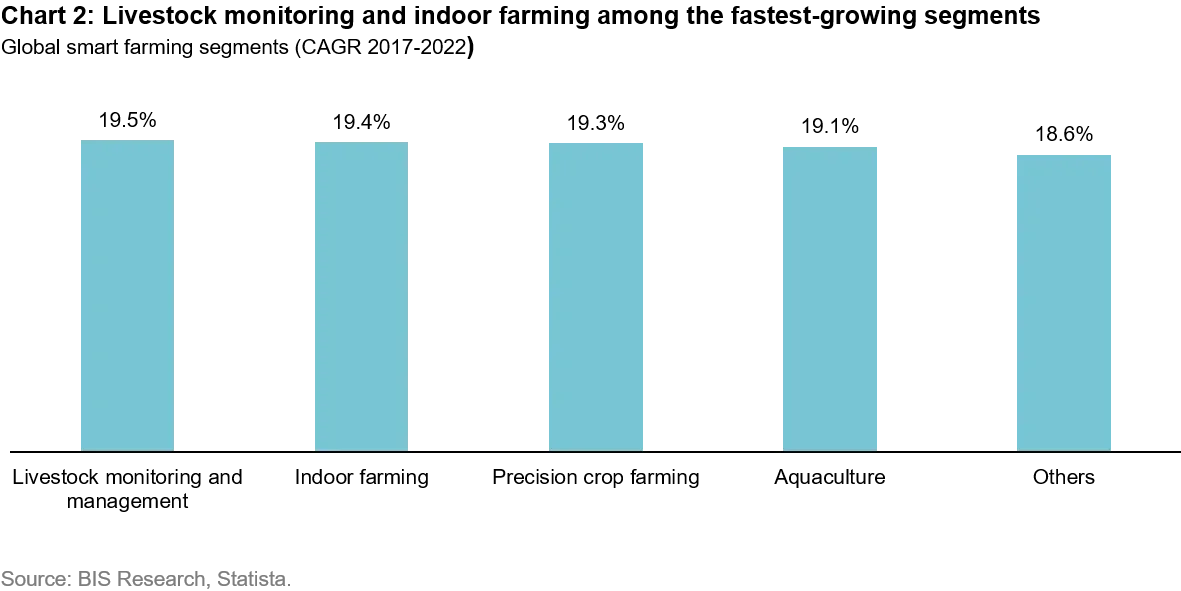 1. "Global food prices rise at rapid pace in May", FAO, June 3, 2021 http://www.fao.org/news/story/en/item/1403339/icode/
2. "Growing at a slower pace, world population is expected to reach 9.7 billion in 2050 and could peak at nearly 11 billion around 2100", Department of Economic and Social Affairs, United Nations, June 17, 2019 https://www.un.org/development/desa/en/news/population/world-population-prospects-2019.html#:~:text=The%20world%27s%20population%20is%20expected,United%20Nations%20report%20launched%20today
3. According to the WHO, the inappropriate use of antibiotics in animals is a leading cause of rising antimicrobial resistance, which in turn has been linked to drug-resistant infections in humans. https://www.who.int/news/item/07-11-2017-stop-using-antibiotics-in-healthy-animals-to-prevent-the-spread-of-antibiotic-resistance
4. "European Union's Farm to Fork Strategy – for a fair, healthy and environmentally-friendly food system", the Agroecology Knowledge Hub of the FAO http://www.fao.org/agroecology/database/detail/en/c/1277002/  Also see: "From Farm to Fork – controlling the safety of the agri food chain", in a Food Safety publication by the European Commission https://ec.europa.eu/food/index_en
5. https://en.wikipedia.org/wiki/Chicago_Board_of_Trade
6. "Global initiative on food loss and waste reduction", FAO 2015 http://www.fao.org/3/i4068e/i4068e.pdf Also see related article "Food loss and waste in the food supply chain" by FAO officials Maryam Rezaei and Bin Liu, Nutfruit, July 2017 http://www.fao.org/documents/card/en/c/30245942-5cdb-42b6-bb1a-98243f108446/