Predictability and yield: A timely solution with fixed maturity emerging market corporate bonds
Emerging market (EM) corporate bonds are a less well-known asset class, hence they are subject to myths and perceptions unsupported by facts. To this day, many investors are unaware that the asset class offers them an increasingly liquid investment universe with moderate volatility. The diversification and higher spreads (the excess return a bond offers compared to a risk-free alternative of similar maturity) available in emerging market corporate bonds can address the existing conundrum that investors face – finding attractive risk-adjusted returns and income.
Liquidity creates opportunity and while many years ago, EM corporate bonds were a small niche market, during the past ten years it has grown substantially in size and in quality. Since 2011, the investment-grade rated EM corporate bond market has tripled in size from USD 500 billion to USD 1,500 billion today. When high-yield and non-rated bonds are included, the total size of the asset class is now around USD 2.5 trillion (see chart 1).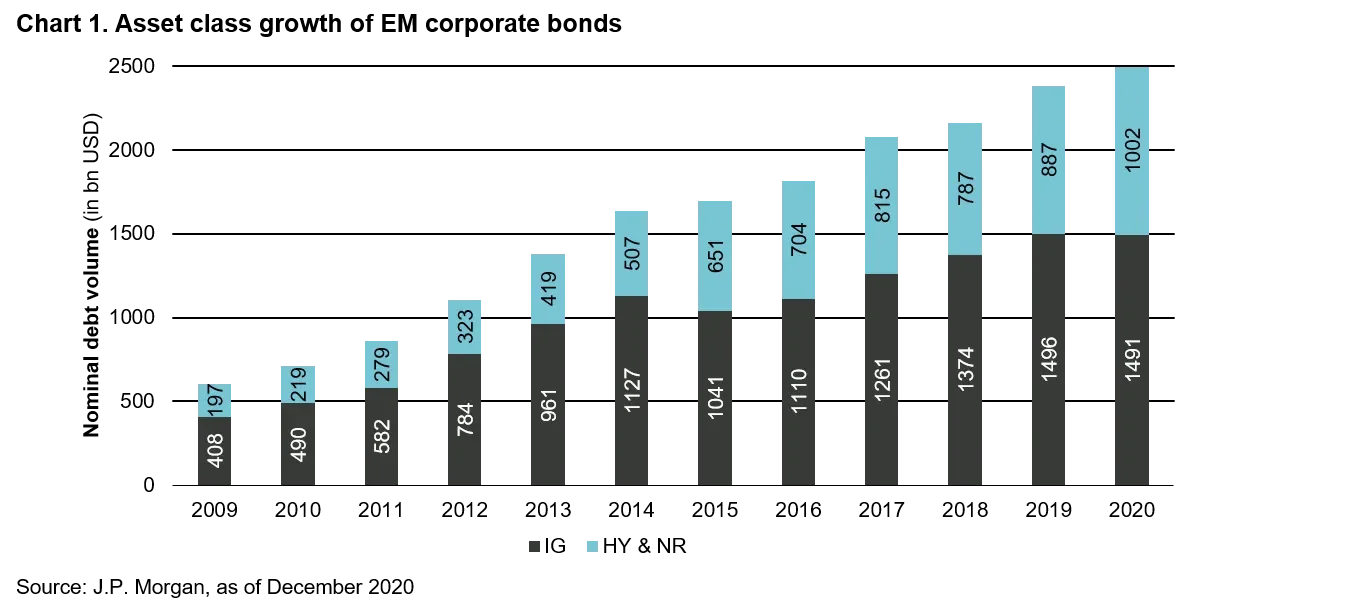 An asset class of this size is highly diversified across regions, countries, sectors, issuers, and ratings. However, dedicated investors account for only a fraction of the total assets under management (AuM) in EM corporates (see chart 2) and fewer dedicated investors results in inefficiencies and mispricings. This translates into higher spreads, when in fact, the liquidity and broad diversification of the asset class should in our opinion result in lower, not higher, spreads.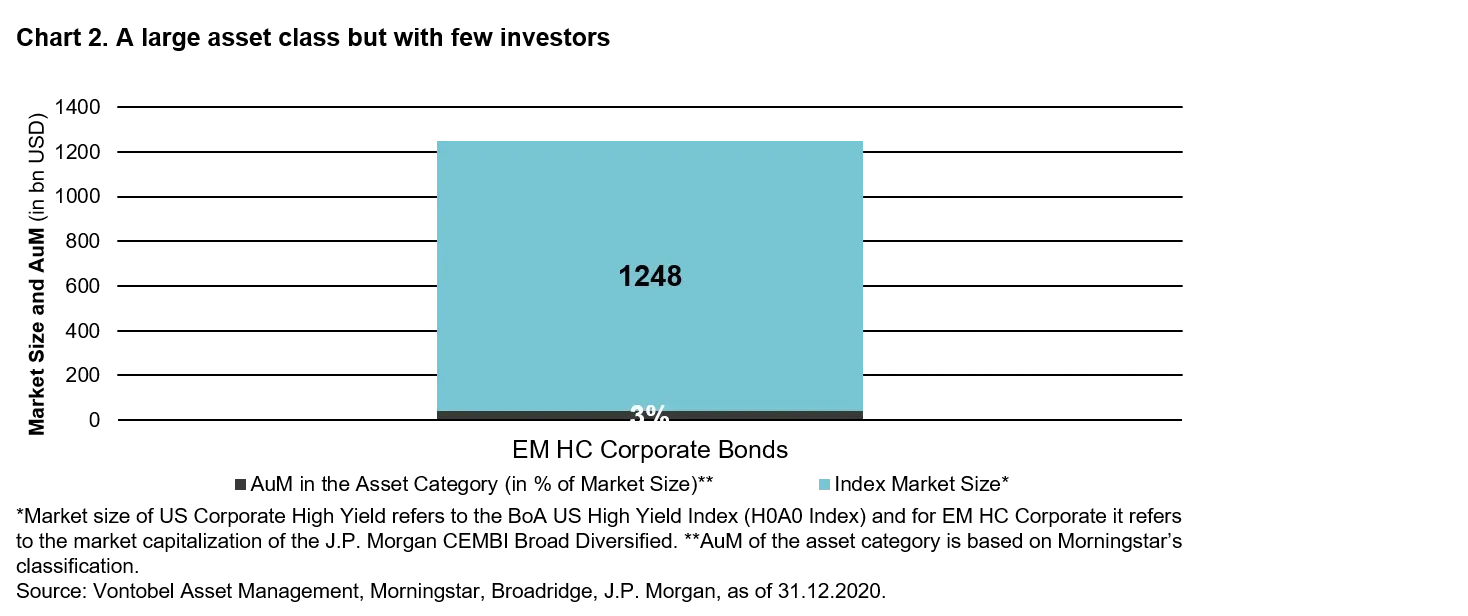 To us, it's a yield-seekers haven
Around 60 precent of the asset class is now made up of investment-grade bonds, which is an indication of the quality on offer. However, even in the high-yield segment, emerging market corporate bonds show strong and strengthening fundamentals. Default rates are below 3 percent and lower than their US counterparts. This has been the case for the past three years and estimated to remain so.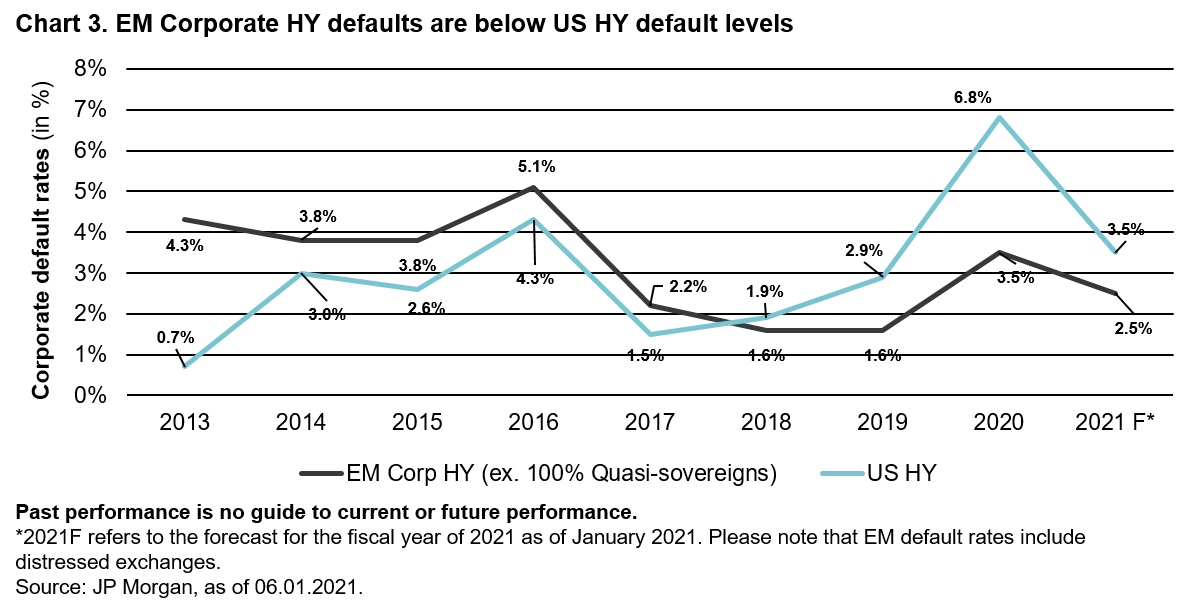 While EM corporate bonds are more stable than generally perceived, and their universe is diverse as well as liquid, they actually exhibit higher yields and lower duration than their developed market peers.
Furthermore, historically, emerging market corporate bonds have demonstrated recurring and attractive returns with moderate volatility (see chart 4). Interestingly, since inception of the JP Morgan CEMBI Broad Diversified index in 2001, each year of negative returns was followed by a year of positive returns, which more than covered the loss of the year before. All this makes for a compelling proposition for bond investors, we believe.

It is this combination of diversification, balanced volatility, higher spreads and yield, which, in our view, make EM corporate bonds a yield-seeking investor's haven. Because of these factors, we are launching a fixed maturity product that aims for over 4,5% of yield to maturity (in USD).
With high quality comes consistency
The goal of our fixed maturity fund is to optimize the yield for the investor. Optimizing the yield begins with the quality of the underlying bonds. Therefore, the portfolio is primarily made up of high-quality bonds. At least 70 percent of the portfolio will be investment-grade rated securities. This, combined with the fixed maturity date of the fund, results in a portfolio with a higher predictability of returns than a traditional and actively managed open-end fund. Furthermore, the semi-passive buy-and-watch nature of the fund means lower turnover, diminishing trading costs thus optimizing the performance further.
Now, an important and often overlooked point regarding the relationship and interaction of risk and yields. Higher yield is equated with higher risk, and this is correct. However, a higher-yielding bond can act as a buffer to volatility. For example, if you hold a ten-year US government bond, regarded as one of the safest of investments, and there is a negative market event for Treasuries (a whiff of higher inflation or stronger economic growth), the low yield of the Treasury bond (currently around 1.4 percent in USD) isn't much of a cushion. While the likelihood of default is minimal, due to the long duration of the investment, you may be forced to sit on your holding for a prolonged time before it recovers. In the case of EM corporate bonds, the higher yield and shorter maturity can dampen a shock because you have the carry (i.e. yield) effect to compensate for the drawdown in the market price of the bond (tension in risk-free rates), and the shorter maturity of the investment not only reduces the sensitivity to market events, but also gives you a faster "pull-to-par" effect. Overall, provided there is no corporate default, the result is higher income and a smoother ride.
Who is a fixed maturity product best suited for?
If you want to minimize (limit) risk and volatility
If you want transparency and predictability to the returns over a set period.
If you want to achieve higher returns with your excess cash
Most investors keep a certain allocation of their portfolio in cash. While there is a higher level of risk in a corporate bond portfolio that can be prone to fluctuations during its term to maturity, the elevated yield and the predictability of the portfolio's returns make it a viable option for those wishing to park cash over a prolonged period.
Furthermore, emerging markets are inefficient, so fear and greed can drive yields higher or lower than the credit quality of an issuer justifies. This is where an experienced, active manager has the opportunity to deliver excess returns. Opportunistic replacement of profitable trade ideas with new, undervalued, bonds can further enhance returns.
Ready, set, yield: Don't miss your chance to invest
A fixed maturity investment, in this environment, gives an investor predictability with a clear roadmap to the returns they can expect over a set period time. With the excess spread available in EM corporate bonds, the yield on offer is higher than with developed market peers. This is why, on the back of our proven track record with fixed maturity solutions, we are building a fixed maturity EM corporate bond fund that will be open to subscription for a limited period of time.
To learn more about what types of bonds we pick for the portfolio and why (spoiler alert: yield and credit quality), don't miss our upcoming article on the 4 October, which will also give you the opportunity to invest in the new fund.