With your summer holidays just around the corner, did you know that Italy is one of the most inspiring places for a road trip this holiday season? And whilst on the road, there is also something to be said for investing in the peninsula and earning good "carry" income and solid coupons. Italian government securities have cheapened substantially most recently, and Italian bank bonds remain extremely good value, especially subordinated AT1s.
Additionally, Roman politics have experienced a great renaissance, in our opinion, and one could even say that the "land of la Dolce Vita" is now punching above its weight in European politics. Italy's 2021 stability program is likely to lead to one of the strongest economic rebounds amongst European countries this summer, which of course would be as refreshing as their famous "gelati".
Consider the following:
"Super Mario" Draghi has maneuvered himself into Italy's top job, thanks to President Sergio Mattarella's and ex-Prime Minister Matteo Renzi's anxieties and fears of mismanaging the up-coming EU recovery fund by the previous coalition government. The disbursement of the EU recovery funds was linked to reforms that should further boost the economic recovery and impact, but was seen as becoming vulnerable to the existing coalition.

Within eight weeks of taking office, Prime Minister Draghi put in place an ambitious program and, given his expertise with EU institutions, the probability that the plan will comply with EU requirements smoothed the dialogue with the European Commission almost instantly.

The plan, which aims to achieve maximum impact on growth with 16 categories of spending, will essentially focus on green and ecological transition spending, including energy efficiency and building renovation, digitalization of production and distribution systems, with a view to improve competitiveness (only 30% of Italian companies have an e-commerce capability according to Bank of America). Finally, Draghi's plan addresses the modernization of the country's out-of-date infrastructure and high-speed rail and road maintenance.

The spending plan will divert 40% of the resources towards the poorer (but beautiful) south with key themes emphasizing equal opportunities for women and the younger generation. Super Mario knows something about debt, and he calls the EU recovery funds good debt that needs to be managed diligently to regenerate Italy. In parliament, when seeking approval for his plan, Draghi said "without Italy there is no Europe" and he knows very well he has no alternative but to succeed where growth challenges have confounded every government since the country was unified in the mid-19th century.
 
Draghi, the craftsman, got his tenure as prime minister off to a good start. Indeed, he gave Italy leverage in Europe in a way it has not been or seen for decades.

Before putting growth at the heart of his debt reduction strategy, Draghi knew that he needed to act fast to stem a Covid-19 vaccine rollout that was marred with delivery shortages and logistics issues. Furthermore, he acted quickly by taking matters into his own hands. Thanks to his engineering behind the scenes, using his network of connections and his reputation (he was on the phone to chief executives of major vaccine producers according to the Italian media), the European Commission authorized broad and stern measures to curb exports of Covid-19 vaccines. Delivery schedules of desperately needed vaccines were improved, not only for Italy but for Europe as a whole to the point where larger European countries were in a position to administer half a million doses per day to its population.

Such development was key prior to finalizing Italy's stability program as together the two went hand in hand to ensure a sustained economic recovery, which would in turn be key in stabilizing and lowering Italy's public debt-to-GDP ratio. The stability program envisages growth of 4.5% this year followed by 4.8% in 2022 with the country's debt ratio declining from 160% this year to 153% by 2024. Such trajectory is credit positive for the country, reflecting a stable-to-improving credit profile.
 
All of which leads us to Italy's banking system as renewed economic growth and a healthier banking system are two sides of the same coin.

Non-performing loans at Italian banks should remain under control too in 2021, as the moratoria schemes related to the "Cura Italia" decree are likely to be extended from June to December 2021. The possibility to award state guaranteed loans is also likely to be extended to December 2021 according to Bank of America. The current legislative proposal is looking for 100% guarantees for loans to small businesses (80% for SMEs) up to 100,000 euros and repayable in 30 years. The scheme under proposal would cover some 250 billion euros of loans.

The disposal of impaired loans should also be key to the quality of bank assets in 2021. The trend of selling NPLs or non-performing loans is set to continue this year and we note that the sector's gross impaired loans ratio has decreased to about 7% in 2020 from a peak of 17% in 2016 (see chart 1).

 

Capital adequacy and solvency improved in 2020 as capital ratios benefited from halted dividends and state aid guarantees, which lowered risk weighted assets. This why we like bank bonds in Italy, especially traditional AT1 capital instruments of the larger Italian banking champions (See figure 2 for Intesa, Unicredit, Banco BPM Tier Ones). Overall, in Europe, AT1s still offer excellent carry income, in a credit market that has experienced spread compression since the beginning of the year.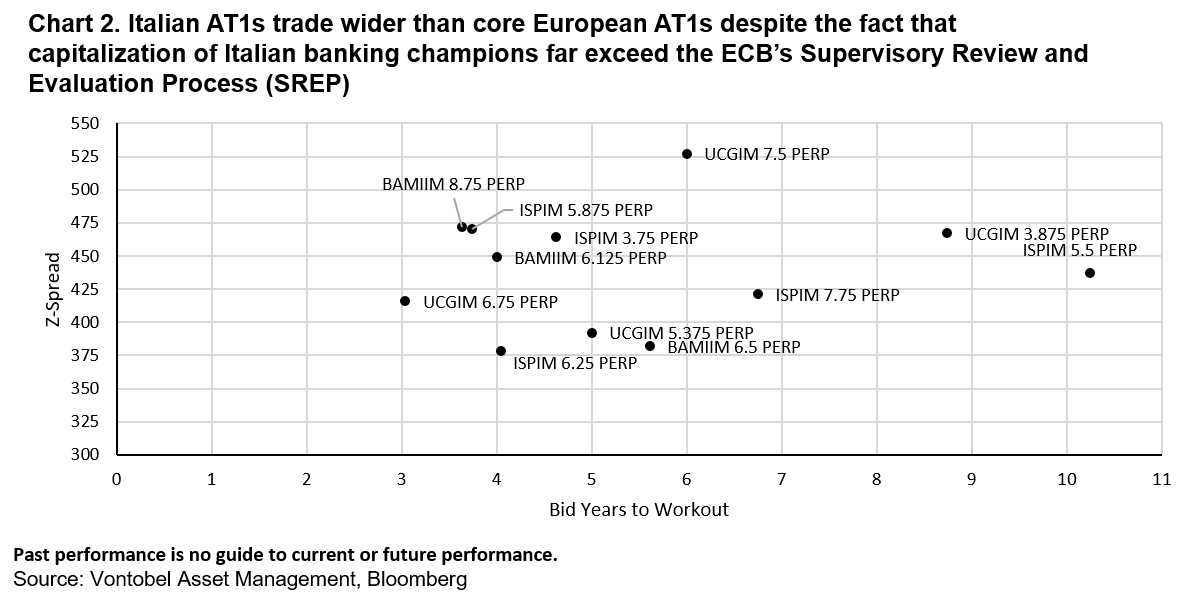 In conclusion, there is quite a lot to cheer for and stay constructive about Italy, which we see as a high-value-added economy and country. It also boasts the world's greatest gastronomy, offers great panoramas and wonderful automobiles. So let yourself be tempted to drive down to Italy this summer to participate in the country's regeneration. Kick off your country feast with a few days in Asti, Piedmont, a land of literary greats and of the white Muscat grapes that make the Asti Spumante. Next could be Cinque Terre where you will enjoy the Cliff Terraces as the sun sets on the Liguria coastline. The enthusiastic could even push onto Lecce in Apulia for easy access to the Adriatic Sea and a sample of "Orecchiette scure con cacioricotta, pomodoro e rucola" (a Pugliese pasta specialty) and a special coffee recipe: almond syrup, ice cubes, shot of espresso!
So much to enjoy in La Bella Italia, in addition to good carry income.