Infrastructure: how to optimally blend your portfolio
Over the past several decades, the marketplace has both discovered and developed the global infrastructure asset class via private and listed investments. For many years, infrastructure was a newly emerging investment area. Nowadays, it represents a deep and diverse investable universe of several trillion US dollars.
Historically, many institutional investors have favored investments in unlisted, or direct, infrastructure versus investment in listed infrastructure securities traded on public markets. While both approaches have many positive attributes associated with them, investors who focus only on unlisted or private infrastructure may miss out on numerous compelling and complementary benefits that listed investment provides to an overall portfolio. In order to construct an optimal infrastructure portfolio, investors should consider including allocations to both listed and unlisted investment.
Defining infrastructure
Infrastructure can be defined as the large-scale physical assets a society needs to function and grow effectively. Infrastructure companies generally provide the public with essential and irreplaceable services, and make up the physical foundation necessary for societies to achieve sustainable economic development. As an asset class, infrastructure provides investors with stable, inflation-linked returns from ownership of physical assets in diverse sectors – including communications, utilities, transportation, and energy.
The infrastructure asset class can be divided into unlisted and listed categories, with unlisted infrastructure investment tracing its development back to the 1990s and listed infrastructure investment beginning around the turn of the millennium. Despite its slightly shorter history, listed infrastructure investment has surpassed direct infrastructure investment in terms of investable market value. Within a current estimated investable universe of approximately USD 5 trillion across listed and unlisted infrastructure assets, more than USD 3 trillion of infrastructure assets fall within the listed category.1
Benefits of listed infrastructure investment
Some investors prefer direct infrastructure investment due to certain perceived advantages that this category provides, such as lower volatility and lower cross-sector correlations. However, listed infrastructure investment inherently provides numerous compelling and complementary benefits to an infrastructure portfolio.
These benefits include:
attractive total returns
better diversification
faster capital deployment
higher transparency
more attractive purchase multiples
ESG integration
Returns: Global listed infrastructure has historically offered investors attractive returns due to the stable and predictable cash flows of the underlying assets. Over the last 10 years, the average annual median return for active managers in eVestment Alliance's infrastructure universe returned almost 9%. Aside from the potential for capital appreciation, global infrastructure has historically offered almost double the income of a traditional stock and bond portfolio. Such yields, in turn, have attracted investors looking to supplement their fixed income allocations in a "lower for longer" interest rate environment.
Diversification: The scope of direct infrastructure investment is often comparatively limited with respect to country, sector, and asset holdings. In these areas, the broad array of listed infrastructure offerings can provide better diversification and reduced concentration risk. Assets owned within the listed and unlisted categories vary between sectors within the infrastructure asset class, with some types of assets, including especially large assets, less commonly held or not held at all via unlisted vehicles. It is evident that unlisted infrastructure investors, considering concentration risk, can only allocate a limited amount of dry powder to any given infrastructure asset. Therefore, investments in assets with the magnitude of long-distance pipelines and large utilities tend to be more difficult for unlisted investors to access. In contrast, renewable energy, water and electric utilities, and some of the world's largest airports are accessible via listed investment in public markets. This example illustrates how listed investment can provide unique diversification opportunity within the infrastructure asset class.
Capital deployment: There is typically a substantial lag time between capital raising and deployment for unlisted infrastructure investments, whereas listed infrastructure investments can be made efficiently and instantaneously on public markets as soon as capital is available.
Transparency: The deep and highly regulated public markets on which listed infrastructure is traded also provide daily liquidity and high transparency to investors, in contrast to the comparatively lower liquidity and transparency that is characteristic of direct infrastructure investments. For this reason, listed infrastructure investment can be particularly beneficial to defined contribution plans that require ready liquidity.
Purchase multiples: Unlisted infrastructure investments generally have been made at substantial premiums to listed infrastructure investments due in large part to a sizable backlog of direct infrastructure investment dry powder that has driven up private asset prices. According to estimates, from 2007 to 2020, direct investors in transportation infrastructure assets made acquisitions at multiples of 18-20x year-ahead cash flows, compared with a much lower 10-12x average cash-flow multiple paid by investors in listed transportation infrastructure companies during the same time period.2
ESG integration: In recent years, ESG has become an increasingly important factor in investment analysis and returns across asset classes, including infrastructure. It has become apparent that direct infrastructure investors lag their peers with respect to incorporating ESG factors in investment processes and that listed infrastructure companies generally have greater incentives to provide more robust and transparent ESG reporting than unlisted counterparts due to a broader and more liquid investor base as well as higher levels of scrutiny resulting from their public-facing ownership structures.3 The launch of the GLIO/GRESB ESG Index for pure listed infrastructure in January 2021 is a prime example of how listed infrastructure is one step ahead of unlisted infrastructure. The index is a global first for infrastructure.
Blending listed and direct investment
Noting the complementary qualities of listed and unlisted infrastructure investment, a key question is how to blend them into an optimal integrated infrastructure portfolio. It is important to remember that listed infrastructure is priced daily and tends to be more volatile in the short term since it is impacted by market movements. By contrast, direct infrastructure investments use periodic valuations (frequently quarterly) of the underlying assets by auditor estimates and do not reflect an actual market price.
Chart 1 shows efficient frontiers blending the GLIO (Global Listed Infrastructure Organisation) Index with, respectively, the EDHEC BMI (Broad Market Index) and the Prequin USI (Unsmoothed Index) utilizing optimal portfolio mixes. The GLIO Index represents listed infrastructure. The EDHEC BMI and the Prequin USI represent unlisted infrastructure. The blend between the GLIO Index and the EDHEC BMI is optimal at 60% listed and 40% unlisted, while the blend between the GLIO Index and the Preqin USI is optimal at 40% listed and 60% unlisted. The oval shade marks an area of balance between the two optimally blended portfolios, indicating that a 50/50 listed/unlisted infrastructure investment mix may be ideal.4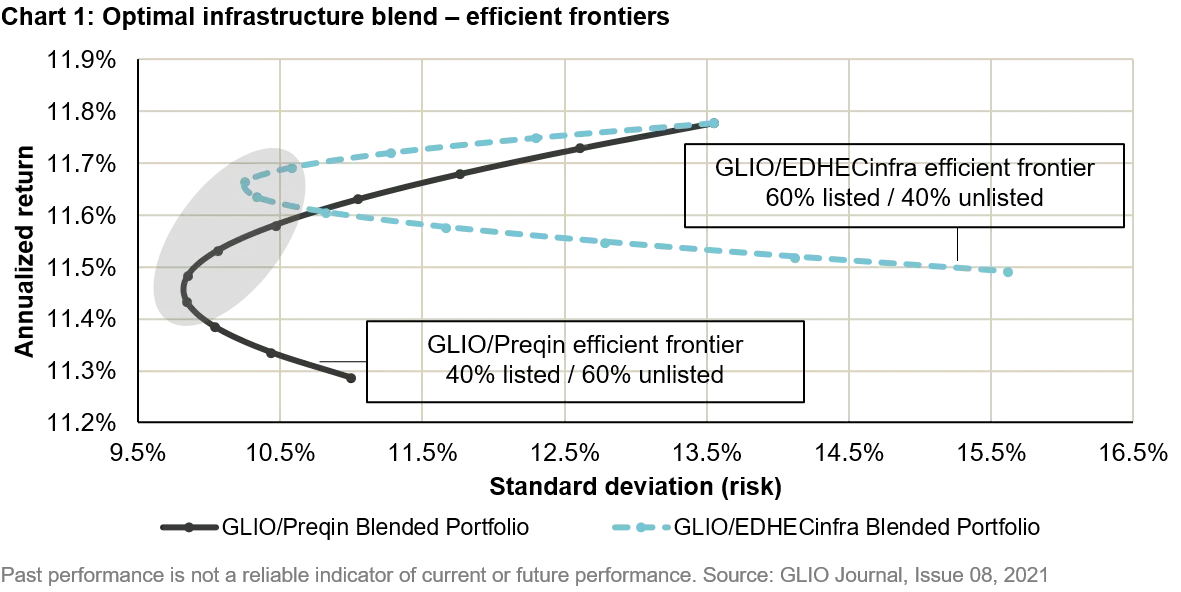 The following charts 2 and 3 highlight optimal blends in terms of return and risk, as well as with respect to Sharpe ratios.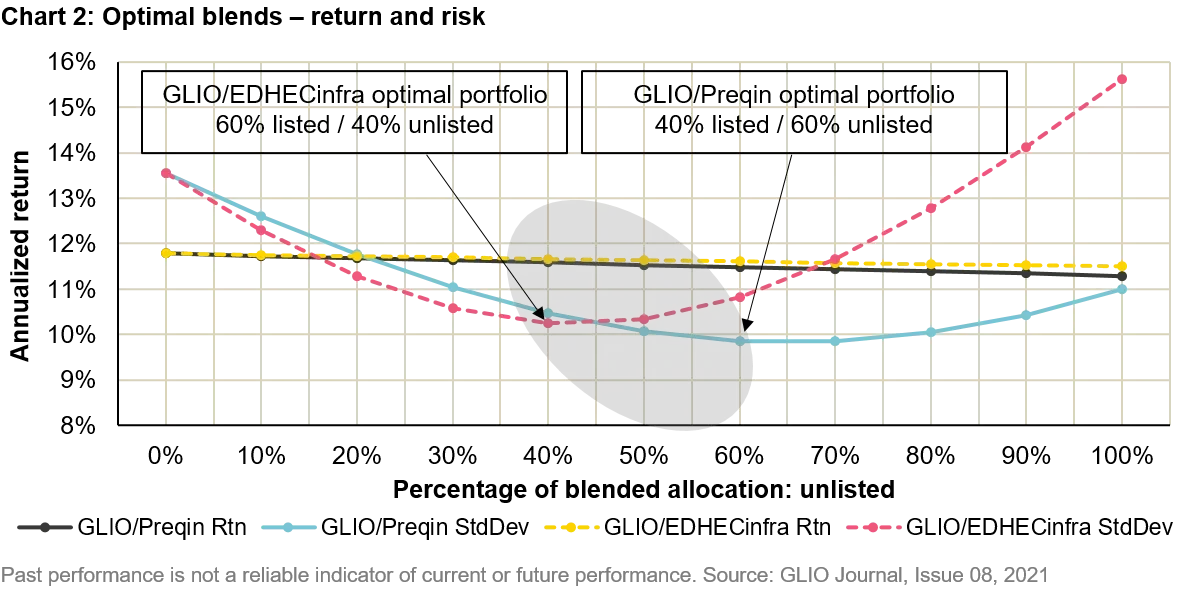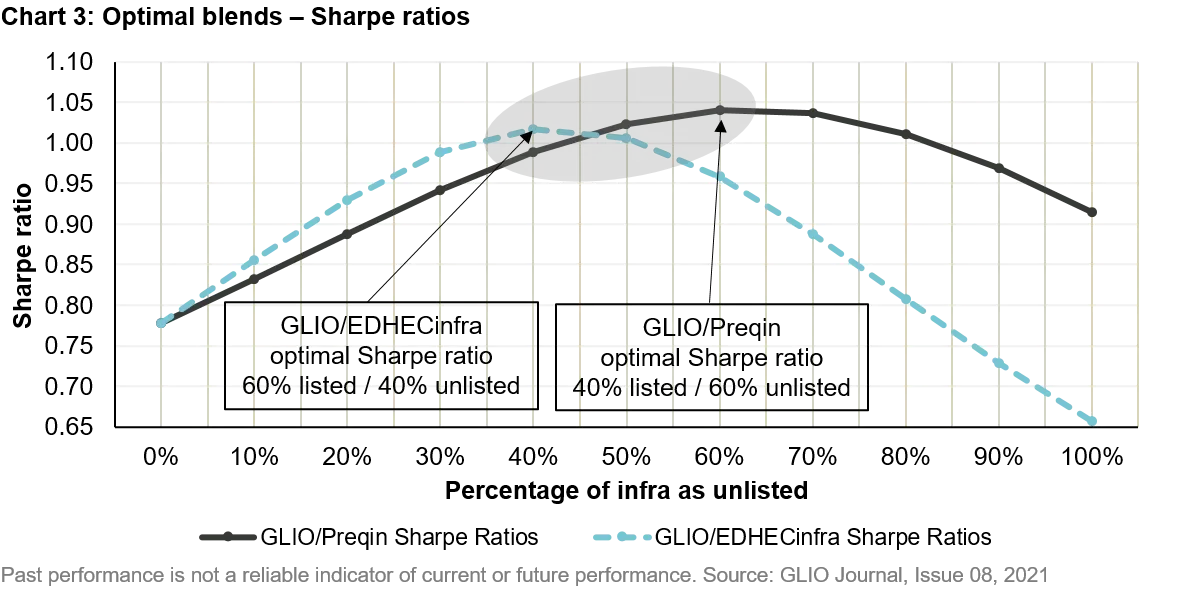 In a nutshell
Listed and unlisted investment are complementary categories that can be blended to construct optimized infrastructure portfolios. While some institutional investors have historically favored unlisted infrastructure investment, listed infrastructure provides compelling and differentiated advantages which investors, including defined contribution plans that require ready liquidity, should consider utilizing. These benefits include attractive total returns, better diversification, more transparency, and greater liquidity.
1-4 Steven Kempler and Fraser Hughes, " Blended infrastructure – a winning approach ", GLIO Journal, Issue 08, 2021
Important legal notice
Past performance is not a reliable indicator of current or future performance. The return may go down as well as up, e.g. due to changes in rates of exchange between currencies. The value of invested monies can increase or decrease and there is no guarantee that all or part of your invested capital can be redeemed. Although Vontobel believes that the information provided in this document is based on reliable sources, it cannot assume responsibility for the quality, correctness, timeliness or completeness of the information contained in this document.