How we as investors can help making human lives better
The economy is a Covid survivor, but what about the people who survived but are now cut off from food supplies, healthcare, finance or education? Reports from the United Nations' World Food Programme and other global organizations suggest that their situation just got much worse.
In his pre-Covid best-seller "Factfulness",1  Swedish physician and statistician Hans Rosling sent a hopeful message that mankind is slowly but surely getting better. However, one major risk he saw for the slow progression towards globally declining birthrates, better education and effective healthcare was a global pandemic – and that's where we are now.
What can investors do to be part of a solution to these issues? Focusing on companies driving environmental and social change may be something we can do to help improve human lives. So what are the challenges?
More people go hungry
According to World Food Programme (WFP),2  the pandemic has increased the global problem of hunger. The lives and livelihoods of 265 million people in low and middle-income countries are threatened because of Covid, compared with 135 million before the health crisis, the United Nation organization said. Moreover, the World Bank noted that global food prices have risen by 38% since January 2020. It warned that an increasing number of households would have to cut down on the quality and quantity of their food.3  Non-governmental organizations such as Oxfam gave similar warnings, urging action.4
Education prospects worsen
The closure of schools owing to Covid-19 reversed years of progress on education. Before the pandemic, the estimated number of children unable to go to school by 2030 stood at more than 200 million, the United Nations said in a report.5  Remote learning remains out of reach for 500 million students, mainly in the poorest countries, and prospects of reopening schools remains unclear in many regions given the uneven progress of vaccinations.
More child labor
The number of children used as cheap workers decreased by 100 million, from 246 million in 2000 to 152 million in 2016, but the pandemic and secondary effects such as school closures have made matters worse. The number of children doing manual, often dangerous work is highest in Africa (72 million), with most of them laboring in agriculture and livestock herding.6
Health systems ravaged
The pandemic has ravaged health systems and economies in countries across the world, but has laid bare the differences in the availability of health services between "global north" and "global south", according to a study published in the science journal Nature.7  The journal noted the disproportionally high infection and mortality rates among people from black and minority ethnic backgrounds in the UK and among African Americans.
Inequality on the rise again
Since 1980, regardless of some gains at the lowest parts of the income distribution of the global population, income inequality has risen sharply, according to a sustainable development report published by a UN agency.8  Although the poorest half of the world population did see incomes rise significantly (primarily due to high growth in Asia), they only received a 12% share of the global gains, while the richest 1% received 27%. In the United States, for example, while the productivity of workers has doubled since the 1980s, almost all the gains have gone to executives, owners and investors.
Impact "pillars" with a social angle
These are some of the challenges we face today. But if we believe that investors can ultimately improve peoples' lives, what do we have to show for this claim? And let's not forget that impact investors want to see exactly what environmental and social benefits their investment brings.
Let's look at our Global Impact Equities strategy, partly based on our longstanding Clean Tech strategy but more focused on social change. We explain the investing rationale for Global Impact Equities by so-called impact pillars, or what we believe are the most promising areas where innovative companies can make a difference, i.e. aim at the common good through profitable activity. To chart and measure the progress, we have defined key performance indicators (KPIs) for each of these.
Sustainable food and agriculture
Even though there is enough food to feed all people on the planet, millions still go hungry. Resilient agricultural practices, easy access to technology and markets as well as the reduction of food waste could be the solution. To ensure food security while reducing environmental and social harm, we need to support ecological and fair agriculture, efficient irrigation and fertilization, safe and hygienic packaging, and efficient logistics. Key performance indicators to measure the progress through corporate action are, for example, the amount of avoided food waste or the preservation of biodiversity.
Good health and well-being
To achieve universal health coverage, providing access to safe and effective medicines and vaccines for all is essential. This entails supporting research and development as well as the improving sanitation infrastructure. Innovative health tech and automation can lower costs. KPIs to chart the progress include a measure tracking the access to healthcare and sanitation.
Equal opportunities
There has been a dramatic increase in literacy rates. But large disparities remain, with children from the poorest households and those living in rural areas in developing countries less likely to go to school. Achieving an inclusive, good-quality education is one of the most effective tools to improve opportunities. Once educated, people are able to drive economic development, achieve better health and live longer. Among the KPIs to measure the progress are provision of education for minorities or low-income students and access to financial services.
Responsible consumption
Economic growth alongside sustainable development requires a reduction of our environmental footprint. One way of achieving this is through a careful selection of what we consume. This change is already underway, as consumers turn to environment-friendly brands and embrace the idea of a circular economy. Companies with high sustainability credentials will ultimately benefit from the trend towards more environmentally and socially responsible manufacturing, or the socially responsible extraction of natural resources. KPIs to track the progress include measures for the promotion of a circular economy and the environmental footprint of supply chains.
Discover more ways to make an impact with your investments:
6 pillars to make a positive impact with your investments
Make your money matter – creating impact through public equity
Market opportunities – need for private-sector funding
Efforts to meet these global goals are going to be enormous, but are also expected to increase market opportunities within food and agriculture or health sectors as well as create millions of additional jobs. Realizing these ambitious targets will require capital from both public and private actors, as governments aren't able to foot this bill alone.
As always, innovative companies will be at the core of environmental and societal change. Our investment process includes an assessment whether the company's activities are aligned with our own impact pillars, whether they support at least one of the United Nations' Sustainable Development Goals (SDGs, see below) and how they contribute to the key performance indicators we measure.
So by identifying the "right" companies, we think we can make a modest contribution to a better world. And we hope you will agree this is a small step in the right direction.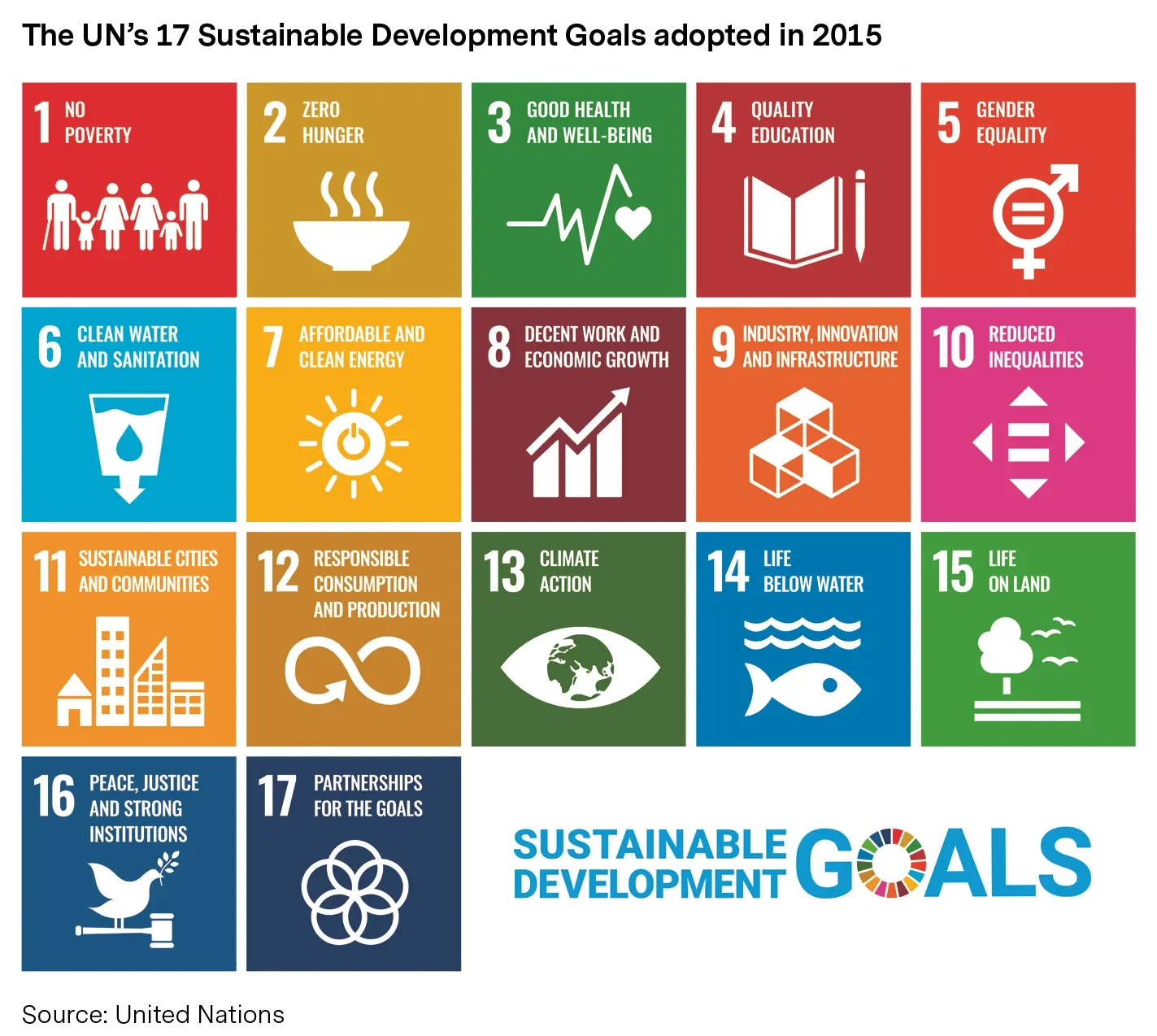 1. Factfulness, Flatiron Books, New York 2018
2. "Risk of hunger pandemic as coronavirus set to almost double acute hunger by end of 2020", WFP, April 16, 2020. https://www.wfp.org/stories/risk-hunger-pandemic-coronavirus-set-almost-double-acute-hunger-end-2020
3. "Food security and Covid-19", May 21, 2021. https://www.worldbank.org/en/topic/agriculture/brief/food-security-and-covid-19
4. "World on the brink of a 'hunger pandemic': coronavirus threatens to push millions into starvation", Oxfam International, 2021. https://www.oxfam.org/en/world-brink-hunger-pandemic-coronavirus-threatens-push-millions-starvation
5. https://unstats.un.org/sdgs/report/2020/Goal-04/
6. "2021: International Year for the Elimination of Child Labour", International Labour Organization, January 15, 2021 https://www.ilo.org/tokyo/information/pr/WCMS_766351/lang--en/index.htm "Child labour fell 38% in last decade, but Covid worsened situation: ILO", Business Standard, January 16, 2021 https://www.business-standard.com/article/current-affairs/child-labour-fell-38-in-last-decade-but-covid-worsened-situation-ilo-121011600285_1.html
7. "the Covid-19 pandemic underscores the need for an equity-focused global health agenda", Nature, January 18, 2021 https://www.nature.com/articles/s41599-020-00700-x 8 .
8. "The future is now – science for achieving sustainable development" the United Nations' Global sustainable development report 2019. https://sdgs.un.org/sites/default/files/2020-07/24797GSDR_report_2019.pdf