Emerging-market winners widen the gap to laggards
The pandemic has dramatically widened the gap between emerging-market winners and losers,1 and we do not expect the chasm to close. If anything, we believe that the "winner takes all" theme will persist and intensify. How do we separate the wheat – i.e. companies with resilient, well-positioned and future-ready business models – from the chaff, i.e. companies with legacy business models, lacking structural growth drivers and vulnerable to change?
To identify attractively valued industry leaders, the mtx team uses a rigorous framework based on four pillars:
A company's ability to achieve, and to improve, high return on invested capital (ROIC).
A competitive advantage, i.e. a leading position within its industry
An attractive valuation of the stock, given its profitability and industry position
An effective tackling of environmental, social and governance (ESG) issues
We define industry leadership in terms of sustainable value creation. This is the amount of cash earned by a firm in excess of its cost of capital, or "economic profit". We believe that sustainable value creation has two dimensions; (i) the absolute size of economic profit earned relative to industry peers and (ii) the period of time during which this excess economic profit can be sustained.
Sustainable value creation is not an easy feat, competitive forces and disruptive innovations, amongst other factors are constantly driving returns towards their cost of capital and thereby eroding economic profit. The size and sustainability of a firm's competitive advantage is almost never stable. Therefore, a framework is necessary to systematically measure and monitor industry positioning.
We determine the strength of a company's industry position by assessing the company's "conduct", i.e. sources of sustainable competitive advantage. To analyze the stability of industry leadership, we scrutinize the peer group as well as the company by studying economic profit pools and tracking elements such as buyer power, supplier power, availability of substitutes, rivalry among firms and barriers to entry. We identify and follow themes, including disruptive innovations, which grow or shrink the economic profit pool over time.
Alibaba, an example of industry leadership
One prominent example of industry leadership is Alibaba. The Chinese e-commerce giant has posted an impressive five-year compound annual growth rate of 37% in economic profit (see chart 1). While chart 1 highlights the steep rise in Alibaba's profits, it also shows a flattening of the curve, which our mtx team monitors closely. Alibaba's 100% online retail business model vs the global industry group average of 25% online revenue share has placed it in a favorable position to take advantage of the acceleration of the trend towards e-commerce. Alibaba also ranks very well on access to growth, distribution strength, brand power, scale and process efficiency, metrics that we have identified as essential to be an industry leader in the retailing peer group.
Rules-based approach works best
While emerging markets remain a potential sweet spot, investors may want to consider a fundamental, systematic and rules-based approach focused on leading companies to help them along their journey. With a disciplined focus on higher-quality, yet inexpensive stocks, they can achieve portfolio stability in an asset class that offers an attractive long-term risk-return profile but also faces inevitable bouts of market volatility.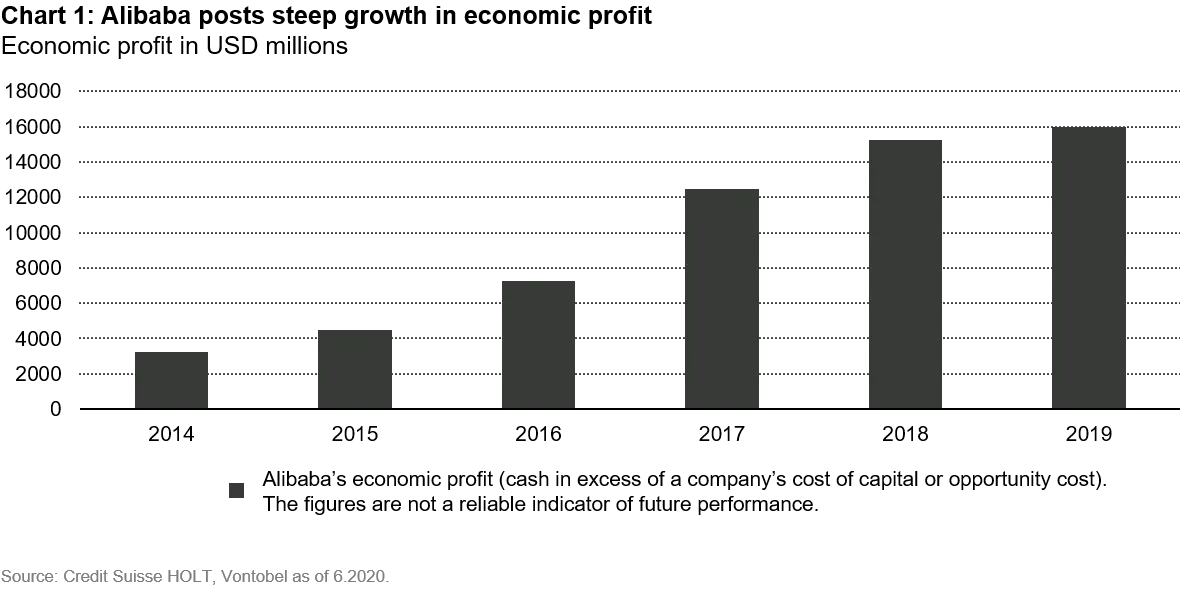 1. The consultancy McKinsey states the following: "Between December 2018 and May 2020, the top quintile of companies grew its total market-implied annual economic profit by USD 335 billion, while companies in the bottom quintile lost a staggering USD 303 billion. And while the specific numbers can fluctuate from day to day, the larger trend is unmistakable: a gap is opening up, and it's rapidly expanding. That's a pattern that has been evident since 2010. Now, the COVID-19 pandemic is pushing it to entirely new levels."