Current pulse of the EM hard-currency debt market

Market update
The unprecedented addition of 4.5 trillion US dollars to G20 central bank balance sheets in just three months has reversed investor sentiment and resulted in EM sovereign debt markets recovering and spreads tightening.
Since the beginning of the Covid-19 crisis, EM spreads first widened by over 400 basis points, from around 300 to 720 bps, followed by a tightening of around 200 bps, to the current below 500 bps level (see chart).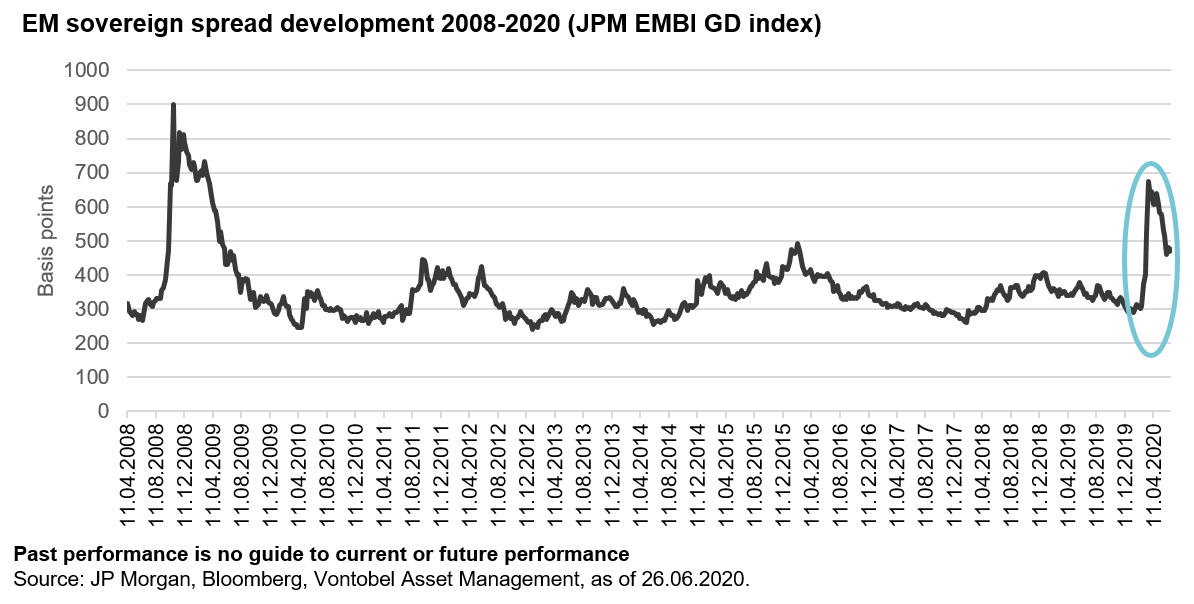 On a relative basis, investment grade names were more resilient during the selloff, but recently high-yield spreads have tightened quicker.
EM sovereign high yield lagged US Corporate high yield in the rebound and the differential between the two reached an eight-year high. EM Sovereign high yield has outperformed recently.
Portfolio update and positioning
The portfolio remains overweight Africa, although that overweight has decreased by about 3% during the past three months. The decrease is a recent result of us trimming some of our positions, including oil-related names, and selling into a strongly performing market.
Increased exposure to:

Mexico
Turkey (however, still remains our biggest underweight)
Colombia
Qatar
Bahrain

Decreased exposure to:

Russia
Nigeria
Angola
Ghana

March was the most challenging month, however, performance has recovered strongly since May. For contrarian investors like us, it is consistent that the portfolio tends to underperform in risk off, outperform in risk on. We believe the portfolio will continue to recover, thanks to the large opportunity set that is now on offer.
As per our investment approach, we are focusing and buying the laggards in the recovery  
Outlook
Huge liquidity provisions from central banks should continue to support EM hard-currency bonds.
Low risk free rates and high benchmark spreads suggest that attractive returns could be found in EM spreads.
A deterioration (second wave) in the corona crisis, poor economic numbers, and geopolitical shocks remain a risk factor to recovery.
We are witnessing multiple mispricings in the market and EM is still cheap and trailing other bond markets, making it a promising asset class for active investors from our perspective.
Starting yields (and coupons) are currently high, which offer an attractive long-term entry point, in our view.
---