2021: The year of emerging markets high-yield outperformance
We expect high-yield (HY) sovereign bonds from emerging markets to continue to outperform their investment grade (IG) counterparts in the hard-currency EM debt space through most of 2021.
Despite the uniqueness of the coronavirus crisis, the cyclical patterns in the performance of EM hard-currency debt and its subcomponents has been quite usual. Investment grade sovereigns were the early beneficiaries of the massive liquidity injection by major central banks with HY sovereigns lagging in the recovery, but HY has been catching up quickly.
It may seem counterintuitive that IG sovereign spreads are now back to pre-crisis levels despite sharp increases in public sector indebtedness, but debt servicing will hardly be a problem as these costs are likely to increase only slightly in the next five years.
The additional compensation asked by investors to hold non-IG vs IG debt is also cyclical. This HY-IG spread differential peaks at the trough of a recession (April 2020) and then narrows towards normal levels as the recovery takes hold (see chart 1). We expect this normalization process to carry on, which should continue to underpin the recent HY debt outperformance through 2021.
Riding the cyclical dynamics: HY tends to fare poorly during the onset of a crisis when risk aversion peaks, but then outperforms as the recovery takes hold.
Stage 1: The trough – HY suffers the most
High-yield EM hard-currency sovereign bonds underperformed their EM IG counterparts during the early stages of the coronavirus crisis as risk aversion and default fears resulted in a much more severe sell-off in HY sovereigns. Nevertheless, HY has been catching up with IG since May and has substantially outperformed IG (in total returns) since November. We think this is likely to continue during most of 2021 as the economic and financial cycle continue to evolve.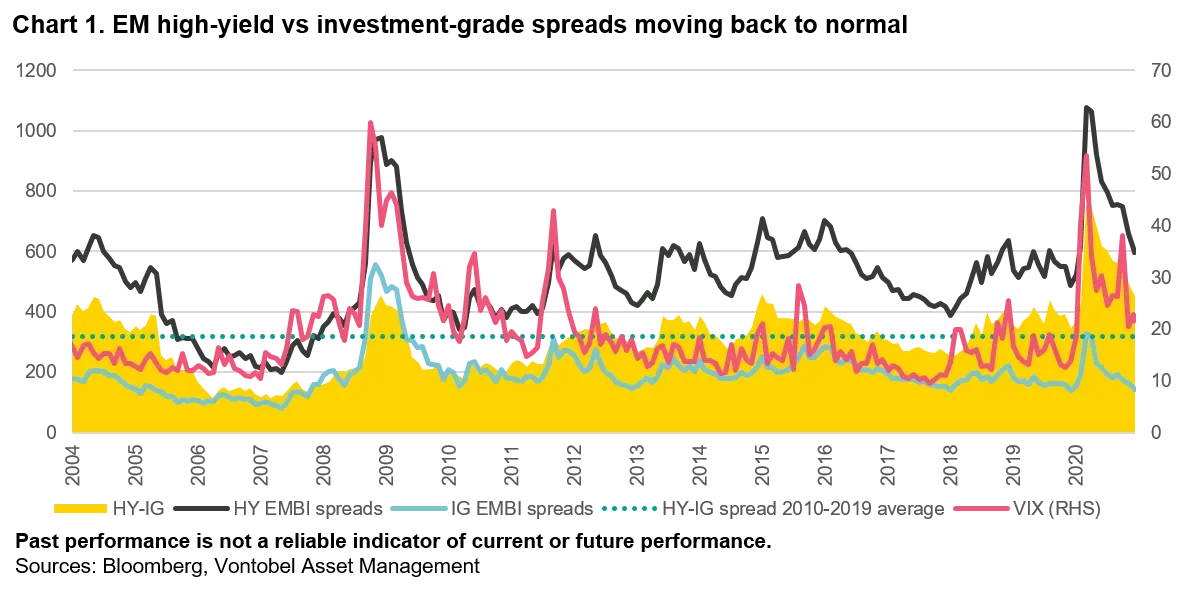 Stage 2: The recovery
2.1 IG normalizes first
Developed market central banks reacted quickly at the onset of the crisis injecting an unprecedented amount of liquidity into global financial markets to help the recovery and reduce the extent of permanent economic scarring. Emerging markets with strong fundamentals were among the firsts beneficiaries of this abundant global liquidity. Investment grade debt had fully recovered its losses by June 2020, and sovereign spreads are now below pre-crisis levels. This may sound contrary to fundamentals given the dramatic deterioration of the economic outlook and the large surge in public debt across Ems (see chart 2). However, larger debt stocks do not directly translate into weaker credit worthiness, and today's global financial environment is more benign than before the pandemic.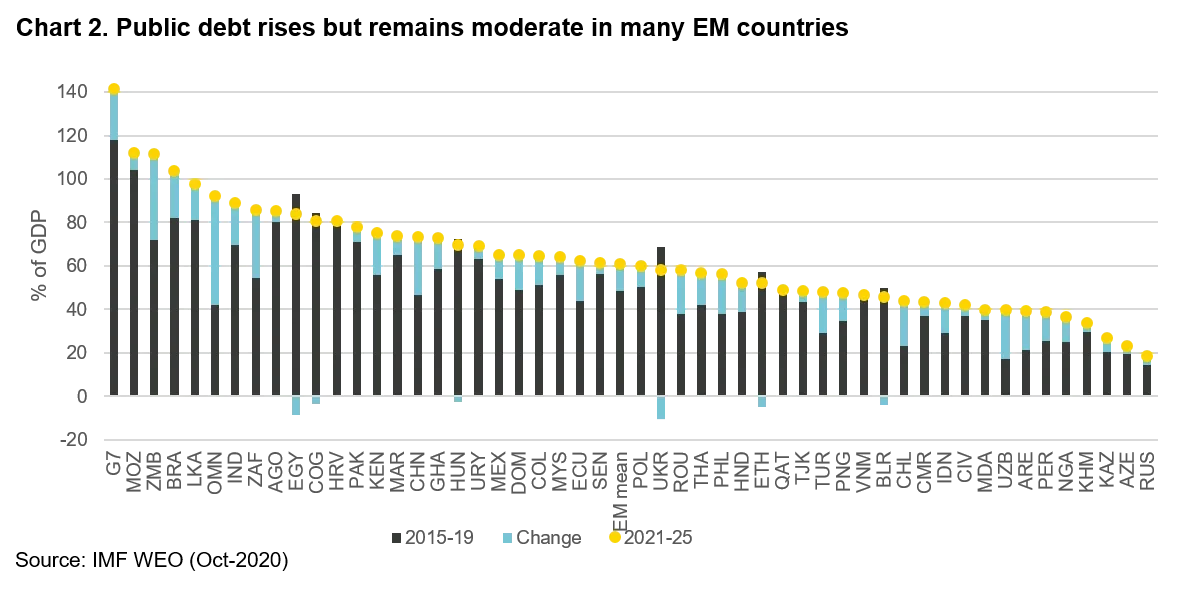 The higher debt lower yields conundrum
Debt-to-GDP ratios are at or close to record highs in many countries and are likely to remain above pre-crisis levels over the next five years – by 24 percentage points of GDP for the largest advanced economies (AEs) and by 12 ppts on average for EMs. However, thanks to much lower central bank interest rates (in EMs and AEs) debt-servicing costs are likely to increase by less than 2 ppts over the next five years for the average EM, and will decline for AEs. Debt servicing costs are not particularly large by historical standards for most EMs and are unlikely to threaten debt sustainability (see chart 3).
These projections do not assume that interest rates will stay at rock bottom forever, they already take into account that major central banks will likely start gradually increasing their key rates from 2023 onwards – once the output gaps are closed, and in the case of the US Federal Reserve, only after inflation consistently overshoots the Fed's 2% inflation target. Some may see central banks' aggressive monetary easing as artificially depressing yields, but artificial or not, central banks are key market players we cannot ignore. Moreover, the aggressive monetary easing seen in 2020 seems justified in a context of excessive spare capacity and low inflation.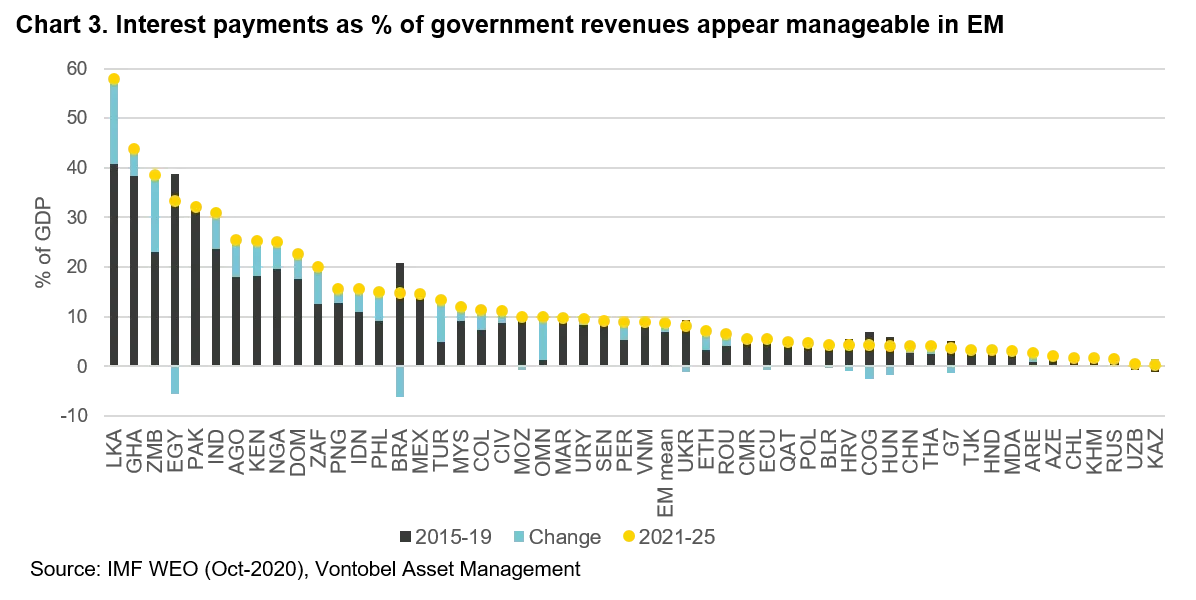 Stage 2.2: HY spread compression
The HY-IG sovereign spread differential, i.e. the additional borrowing cost non-IG sovereigns have to pay when compared to their IG peers (yellow-area in the first chart), has been declining since May but at ~472 basis points, it is still more than 100 bps wider than pre-crisis and ~150 bps above the last decade average. Overall, we think the modest worsening in sovereign risk fundamentals seen across most HY sovereigns will be overcompensated by the much looser post-crisis global financial conditions. Thus, we think the HY-IG spread will not only return to its long-term average, but will likely compress beyond this point over the next two years as the search for yield intensifies in a world of low expected returns on investment.
A relatively weak US dollar and less trade-related uncertainty will help
A strong dollar had been a headwind for dollar-denominated EM debt for most of the 2015-19 period. A strong dollar makes external debt servicing more onerous for most EM sovereigns. The US-China trade war had also been negative headwind for most EM over the last three years. The dollar's weakening of around 10% since May 2020, and the election of Joe Biden, whose China policies will probably be much more predictable, provide a much more positive environment for EMs than pre-crisis.
How far can this HY spread compression go? We look at Q1 2018 and 2010-11 for clues
The abundant liquidity of the post-global financial crisis (GFC) period brought the HY-IG spread below 200 bps in early 2010. However, that crisis affected EMs clearly less than the pandemic. Thus, the post-GFC environment may be too optimistic in the current context. We think that the first quarter of 2018, when IG-HY spreads narrowed to ~260 bps, provides a more realistic target. This may be an odd comparison because the economic and financial cycles were at a very different stage at the time – with the Fed hiking rates amid exceptionally low unemployment rates – but the US dollar (measured by the DXY index) was hovering around 90 – a very similar level to today's and a three-year low at the time. Moreover, the US-China trade war was only starting to heat up and markets had not yet priced it in. Thus, we think that in terms of spread differentials this may be a useful point of reference.
Stage 3: The expansion – we are almost two years away from that phase of the cycle
The next stage in the business cycle is the expansion, when GDP grows above the previous peak, economies start running into capacity constraints and financial conditions tighten. We look forward for a full recovery of the global economy and to the expansionary phase of the cycle, but that will be a late 2022 and 2023 story. Worries about a "taper tantrum"-like event are thus probably premature in our view – i.e. an environment in which bonds sell off aggressively following the Fed's announcement of its intention to halt quantitative easing. US yields may be rising amid vaccine optimism and modestly higher inflation expectations, but US rates will almost certainly remain below pre-crisis levels over the next two years amid persistent spare capacity and modest inflation.
Altogether, we have a high conviction that this subset of the hard-currency EM debt asset class is likely to outperform in 2021.